A visit to the Enermax Lab in Hamburg – 6 PSU tested
NAXN 450W: Results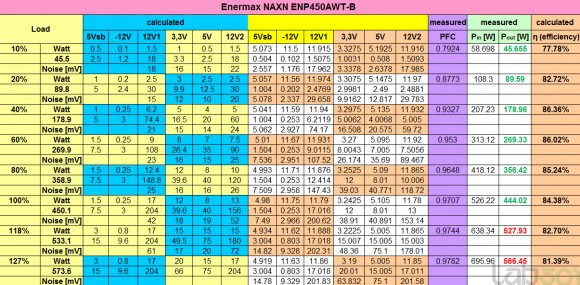 First off we notice the very good efficiency this unit displays at medium loads (40%-60%), above 86%, while at full load the efficiency is still above 84%. The only scenario in which the efficiency drops below 80% is at 10% load, but let's be honest, it's tough nowadays to build a system that would only take 45W, even at idle.
With the NAXN, we have two overload scenarios. The first one loads the PSU to 527.93W, meaning 18% above its rating. In this case, the 12v line didn't drop below 11.86v and the ripple values were good (far from the ATX limits), while the measured efficiency was 82.7%. Truly impressive behaviour for an entry-level power supply one might say.
Moving on we took the PSU to 27% above its rating, at which point we were pulling 566.45W from it. Despite the 12v rail still hoovering at 11.85v, the ripple noise exceeded the ATX specs by a good margin, on all four measured outputs. Even though I haven't triggered any protection, I decided to stop because it's dangerous to run a system under such ripple.
The fan can't be characterized as silent, but it kept a decent noise profile even when the PSU was seriously overloaded.