A visit to the Enermax Lab in Hamburg – 6 PSU tested
Enermax and Lepa
For almost two years now, all sales and marketing operations for Enermax have been handled by their German office located in Hamburg. With the expansion of the office, a top-notch testing lab was put together, which under brief approximation easily exceeds the 30.000 euro mark in equipment cost alone. While the main purpose of this lab is to test retail samples that will go on sale in the European market, we were invited there to have some fun testing PSUs with their equipment.
For us, this turned out to be an excellent occasion to address the recent community requests for more in-depth power supply reviews. Today we'll show you how a LAB501 branded review would look like, if our budget would allow us to acquire such equipment and perform the required annual calibrations.
I am sure that Enermax doesn't need any more introductions for our readers. The company was founded in 1990 in Taiwan, boasting a 20 year history in power supply design, manufacturing and retail, but also known for their cases, peripherals, coolers and fans. We'd also like to point out the fact that Enermax, alongside Antec and Chieftec, was among the first brands of quality power supplies to be found in the Romanian market a decade ago.
Lepa on the other hand is a brand founded in 2011, with Enermax acting as the main OEM for them but also managing their European sales and marketing operations through the same Hamburg office.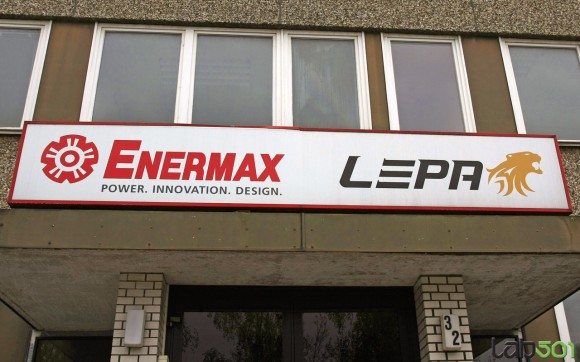 From the moment I entered the Enermax office my target was clear, the testing lab. However, on my way there a computer case draw my attention, which usually doesn't happen to me with Enermax cases.
A classical look created by the simple, straight lines and the predominantly black chromatic is combined with the contrasting white of the front grille wrapped around the frontal mask. The Ostrog case is surprisingly pleasing aesthetically but also has the features and the functionality to please almost anybody, especially considering the price tag of only 40 euros.
Enermax cases didn't appeal too much to europeans until they establish the main European office in Hamburg. Since then, the team has grown significantly, being composed by europeans that understand the needs and know the taste of the people living in Europe. So I'm glad to say: bye bye shiny black, bye bye chrome and, especially, bye bye multicolour lights used in excess!