TP-Link Archer C2 AC750 Wireless Router & Archer T4U AC1200 USB WiFi-Adapter
If last year we were mainly talking about dual-band wireless routers with support for the 802.11n IEEE standard, now is the time to analyse and test a mainstream router with support for the new 802.11ac standard. I know there were routers with support for this standard since last year, but officially this standard has only been approved in January 2014. In other words, starting this year we will see a plethora of new Wi-Fi Dual-Band routers with support for the 802.11n and 802.11ac standards.
I will not go into technical details regarding the differences between the two standards, but I will mention that the 802.11n standard is available on both frequencies (2.4 GHz and 5 GHz), and the 802.11ac standard is only available on the 5 GHz frequency. Also, even though our logic will make us believe that the new standard is automatically faster than the older 802.11n standard, it's the manufacturer's implementation that will be the decisive factor in this equation.
As you have already found out from this article's title, today we will be testing the TP-Link Archer C2 AC750 Wi-Fi router and the Archer T4U AC1200 USB adapter. In case you deem interesting a Wi-Fi Dual-Band router with support for the 802.11ac standard at an affordable price (70 USD / 55 EUR), lets review on the following page its most important specifications.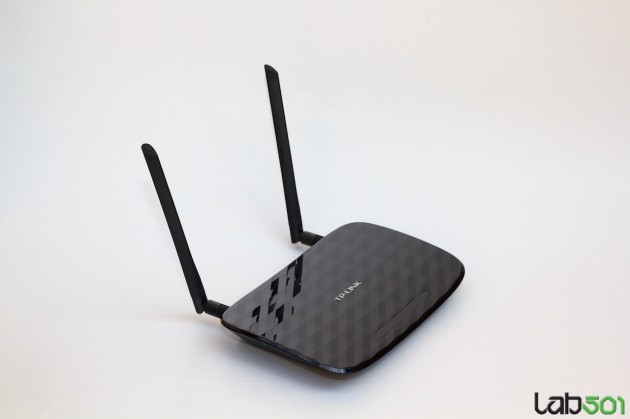 Specs
Specs
TP-Link Archer C2
TP-Link Archer T4U
Antena
2 x 2.4GHz / 5GHz 5dBi

WiFi
IEEE 802.11ac/n/a - 5GHz,
IEEE 802.11b/g/n - 2.4GHz
IEEE 802.11ac/a - 5GHz,
IEEE 802.11b/g/n - 2.4GHz
Band
2.4GHz si 5GHz
2.4GHz si 5GHz
Connectors
4 x 10/100/1000Mbps LAN
1 x 10/100/1000Mbps WAN
1 x USB 2.0
USB 3.0
Transfer speed
5GHz: up to 433Mbps
2.4GHz: up to 300Mbps
5GHz 11ac: up to 867Mbps (dynamic)
11a: up to 54Mbps (dinamic)
2.4GHz 11n: pana la 300Mbps (dinamic)
11g: pana la 54Mbps (dinamic)
11b: pana la 11Mbps (dinamic)
Protocols
Dynamic IP, Static IP, PPPoE, PPTP (Dual Access), L2TP (Dual Access), BigPond, IPv4, IPv6, VPN.
Management
Access Control, Local Management, Remote Management.
Firewall
DoS, SPI Firewall, IP Address Filter/MAC Address, Filter/Domain Filter
IP and MAC Address Binding
USB Sharing
Support Samba(Storage)/FTP Server/Media Server/Printer Server
Access Control
Parental Control, Local Management Control, Host List, Access
Schedule, Rule Management
From the above table we can notice the support for wireless ac/n/a standards in the 5 GHz frequency band and for the b/g/n standards in the 2.4 GHz frequency band. Also, as with any other reputable router we can find a WAN port, four LAN Gigabit ports and one USB 2.0 port which can be used to connect a printer or an external media storage.
I don't think it's necessary to mention the software options available through the management interface, as those are similar with the ones found on any other TP-Link router from this products range.
Hardware-wise, Archer C2 uses a MediaTek MT7620 SoC with a processor clocked at 580 MHz, and a Realtek RTL8367RD for the switch.
Package and accessories – TP-Link Archer C2 AC750 Wireless Router
In the box we can find only the minimum required for the use of the router, which consists of two external antennas, the charger, one ethernet cable and of course the Install Disc and User's Manual.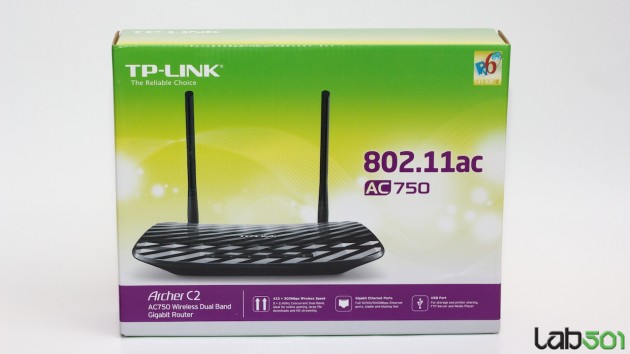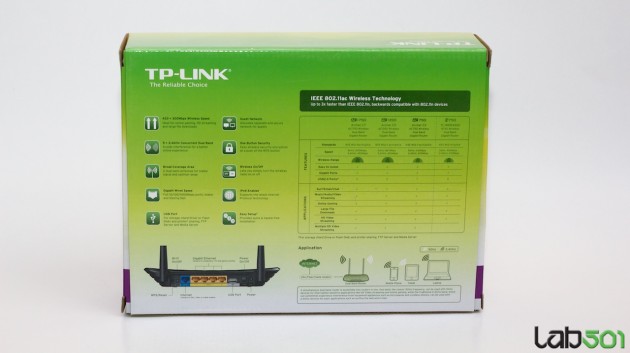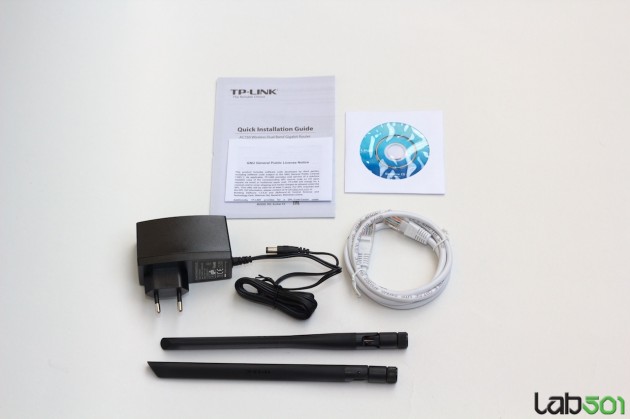 Package and accessories – Archer T4U AC1200 Wireless USB Adaptor
Beside the usual accessories (CD, User's Manual), in the packaging of the TP-Link adapter we can also find an USB extender which comes very handy when we would like to connect the adapter to an USB 3.0 placed at the rear of the PC.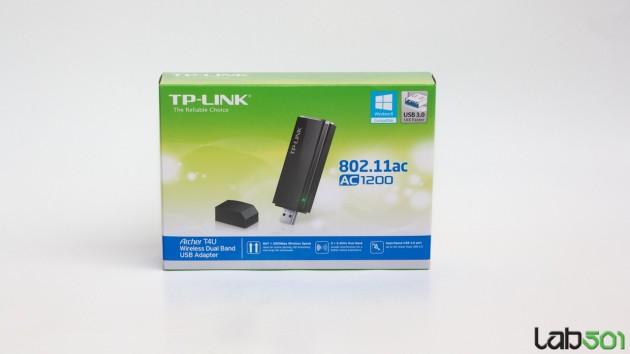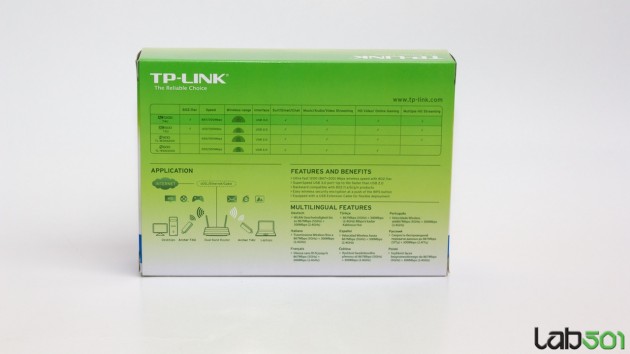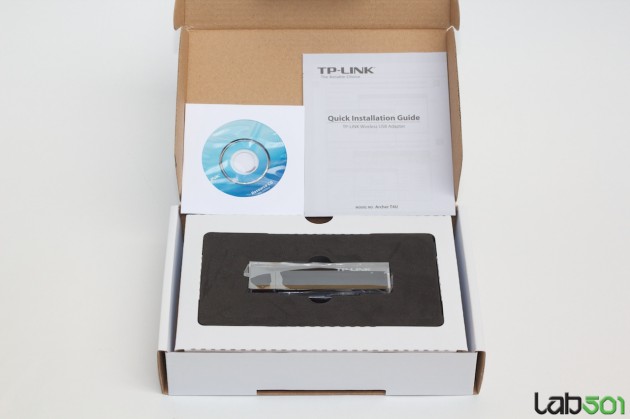 Design – Archer C2 AC750 Wireless Router
The Archer series brings a welcomed change of design for the TP-Link products. The new design replaces those rectangles used on older models with a new mosaic drawing, much more pleasant and elegant – at least from my point of view. Also, the new C2 AC750 has a smaller footprint than its predecessors (230 x 144 x 35 mm) and the plethora of LED's from the front side have been restructured.
Yes, we still have a series of LED's, but they are smaller and less annoying than those found on previous models. At the back of the device we can find the usual ports, namely from left to right the WPS / Reset button, the Wireless On/Off button, WAN port, the 4 LAN Gigabit ports, USB 2.0 port, the Power On/Off button and the DC-Jack.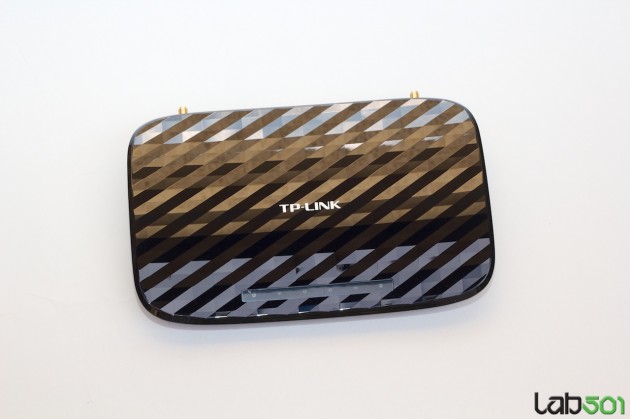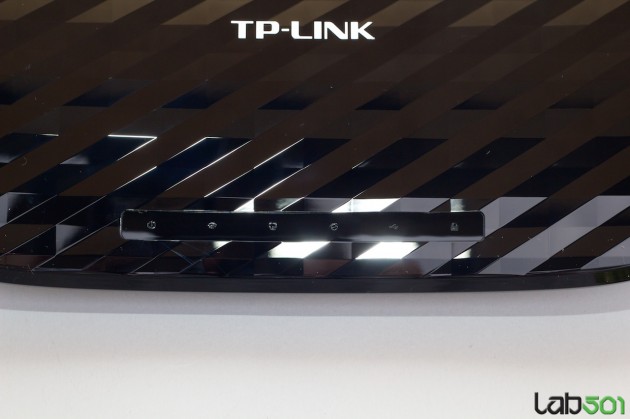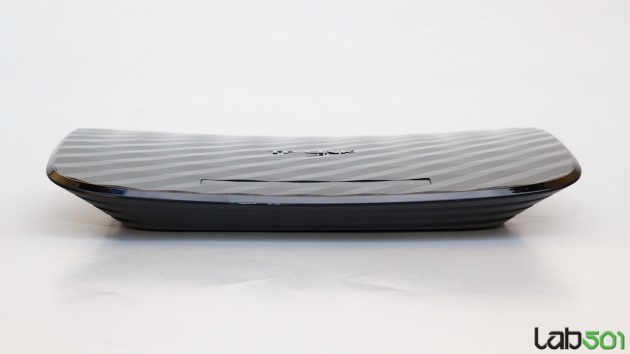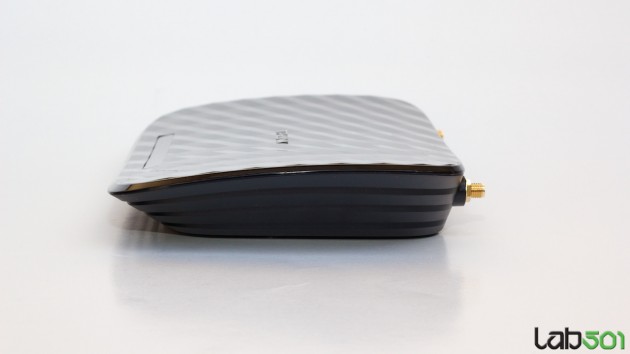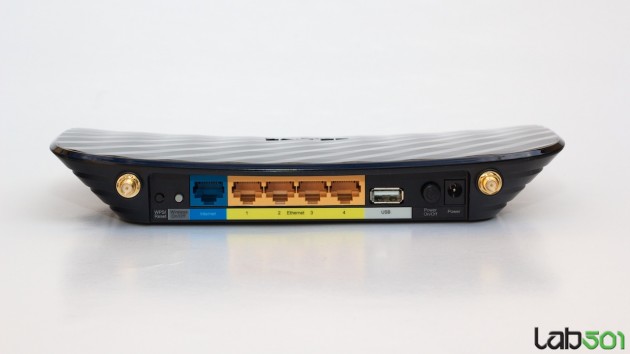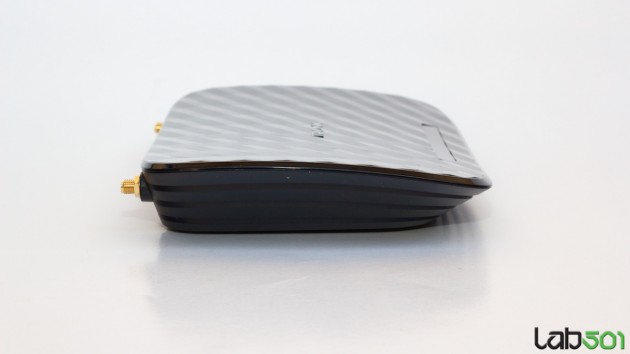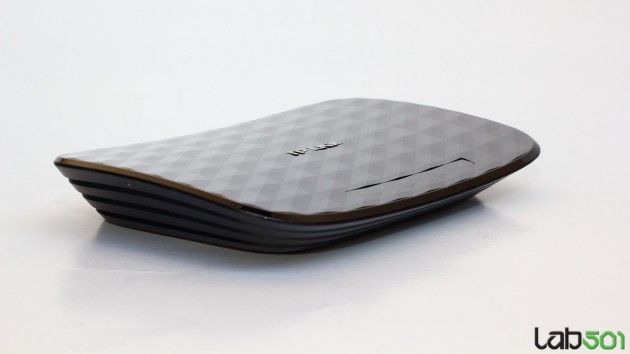 Design – Archer T4U AC1200 Wireless USB Adaptor
The Archer T4U adapter can be used with any desktop or notebook fitted with an USB 2.0 or 3.0 port, as long as the operating system is Windows and the adapter is within range of a wireless network. It can be used in both frequencies (2.4 GHz / 5 GHz) with a/b/g/n/ac standards.
On the design front there's not much to comment – maybe just the fact that the adapter is a little bulky (92.2×29×14.6mm).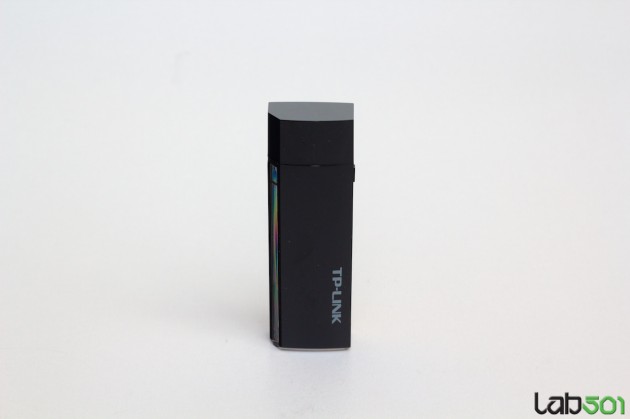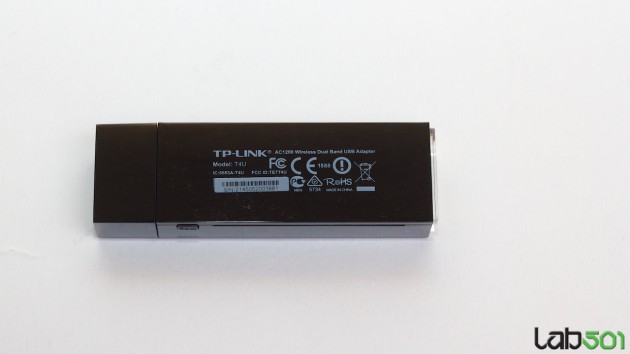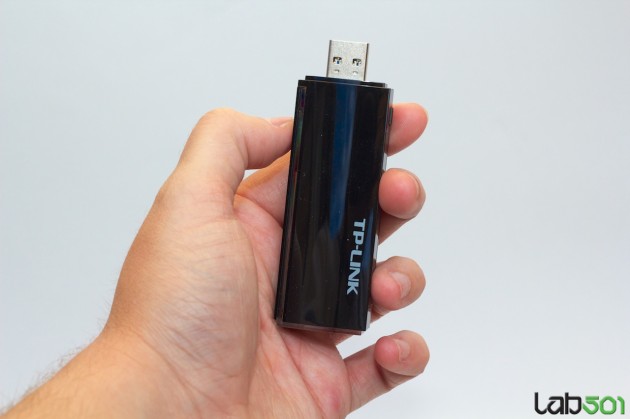 Methodology
The testing methodology is the same for all routers, regardless if they are compact or standard so as to compare as good as we can between different brands and router models. After a careful analysis I've realised that there are two essential elements to pay attention to when it comes to the performance of a wireless router: signal strength measured in decibels, and the speed achieved, measured in MB/s.
For the first test, the one regarding range, I have set a fix point in a room for the router and proceeded with three measurements at different distances in order to determine the decibels level. And since replicability is one of the most important factors for us, considering that we will be testing more routers, from different manufacturers and with different specifications, we will test its range from a fixed router position and also a fixed position of the 3 measurement points (P1 – 1m; P2 – 10m; P3 – 20m).
The building where we made the measurements is made out of bricks and concrete, with spread out sandwich-type metallic structures.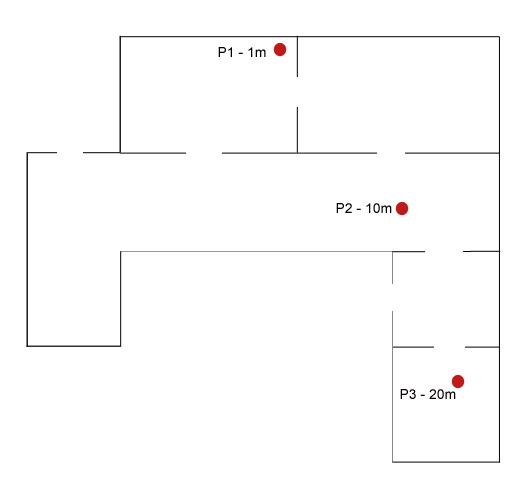 Performance – LAN-USB-WiFi
Beside the methodology described on the previous page, I'd like to add that in the WiFi-to-Wi-Fi test I've used the WiFi Archer T4U adapter on the desktop (connected to an USB 3.0 port). This way, the router was placed in the same spot as the other routers tested by us, and the measurements were done at one meter away from the router (P1), 10 meters plus a structure wall (P2), 20 meters and two structure walls (P3).
I've tested the router's speed from WiFi-to-LAN, WiFi-to-USB/FTP, WiFi-to-WiFi in all the measurement points and LAN-to-LAN using UTP CAT6 cables between a desktop and two notebooks. Of course, in the wireless tests I've also measured the signal strength. LAN tests were done on a desktop equipped with an onboard ethernet card Realtek RTL8168D Gigabit and on a MacBook Pro (late-2013). For the Wi-Fi tests I've used the same MacBook Pro that has support for the 802.11ac wireless standard.
For the USB tests I've used a Corsair Flash Voyager USB 3.0 and an A-DATA USB 2.0 NH92 external hard-drive for results validation. For all tests I've used the iPerf3 application and a test video file of ~1GB (1013 MB) when the use of iPerf3 wasn't possible, and the cables used where CAT6. I've used the command line for receiving – sending data and for measuring the average transfer rate. The signal strength of the wireless network was tested with the help of the InSSIDer application.
Test results can be found in the two charts down below and I don't think they need any further explanations. We can notice the fact that we have reached good transfer rates from and to flash-drive/external HDD connected to the USB port. Also, it's worth mentioning the LAN-to-LAN speed of 908 Mbps (or 113 MB per second) and the WiFi speed using the 5 GHz band in P1 (1-3m) and P2 (10-13m). The only weak aspect is the signal strength that does not suffice for a connexion at 20 meters away from the router (and two structure walls).
Final thoughts
With the launch of 1 Gbps internet services, all router manufacturers started the "arming" race of providing the internauts with more and more performant devices, with as many features as possible and interesting or even exotic designs. If we are going to link this to the approval of the new 802.11ac wireless standard from the beginning of this year, we can notice how things currently work in this market.
Thus, the potential customer will have to choose between a multitude of wireless dual-band N routers and the new dual-band AC routers. In all this equation, thinking ahead should be prioritary, therefore choosing an AC router should be the way to go. Besides, it is to be expected that by 2015 all mobile devices will sport 802.11ac support.
But let's go back to our tested router, Archer C2 AC750. Archer series is a very welcomed refresh for TP-Link, beside the much more attractive design (for the whole series) I've also noticed all-around performance improvements (wired, wireless, USB) as against older models.
Bottom line, Archer C2 AC750 is available in online stores at a price of 70 USD / 55 EUro and there is a big enough chance that this router will be a best-buy product in its category, and maybe also one of the best-selling 802.11ac routers this year because of the price/performance ratio.