Smartphones vs digital cameras – January 2014
Basic notions
Before we dig even deeper into this article, we should first discuss a few basic notions about photography. Many of you already know them, but for those who don't, prepare for a crash course in basic photography notions…
When we talk about photography or film, the basic idea is the same – you need a lens, a dark room and a support used to capture the image. If the lens didn't change that much from a conceptual point of view, and the dark room didn't change at all in the last 1000 years, the support we use to capture the image changed in a pretty radical way.
From film (a celluloid base with a layer of photographic jelly that was rich in silver halides) we came to digital sensors, which are in fact analog-digital converters that transform the light into electrical signals that are later interpreted as intensity and wavelengths of the electromagnetic radiation which is light. A sensor has a number of pixels, independent functional units that are replacing the silver halide molecules we used with film, and that number gives us the sensors resolution (millions of pixels, aka mega pixels)
A digital sensors performance is defined by a few specific characteristics, but the most important are the sensors surface and the number of pixels. The ratio between those two gives us the size of the pixel. The higher the pixel number, sensor surface and pixel surface, the better the sensor. In real life, the size of the sensor and the size of the pixel have a greater meaning to us then the sheer resolution (think about a 16MP DSLR compared to a 18MP compact camera), because of the reduced noise.
In the image bellow you can see scaled images of the sensors we are testing today. If you view the first picture at maximum size, you can see the compared size of the sensors in Phase One P45+ (digital-back), Canon EOS 5D MKIII (full frame), Nikon D7100 (APS-C), Nikon D5000 (APSC), Nokia Lumia 1020, Sony Xperia Z1, iPhone 5s, HTC One Max, Samsung Galaxy Note 3, Nexus 5 and Allview X1 Soul using a 1:10 scale.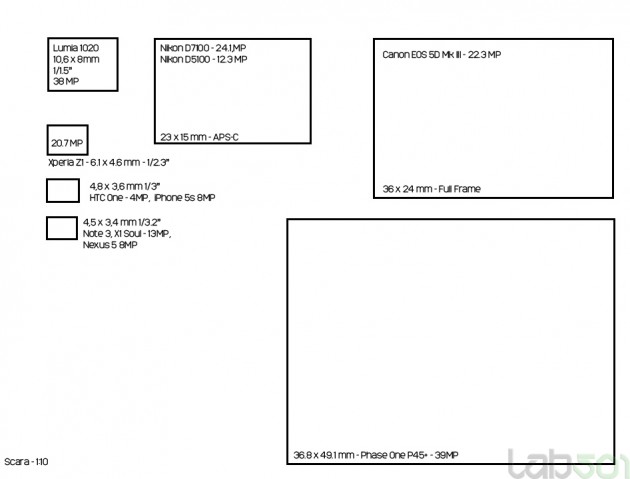 In the second image you can see the size of the pixels (scale 1:100000000). Notice that Phase One P45+ and Canon EOS 5D MKIII have similar sized pixels, which means that the image quality is similar, but Phase One has a higher resolution due to it's larger sensor surface. Nikon D5000, an APS-C DSLR which can be considered and entry-level these days, has larger pixels then Nikon D7100, but the image quality is better with D7100 because it's sensor and image processor are a few years more advanced. HTC One has pretty large pixels for a smartphone camera, but Apple found an even better solution using a sensor of similar size but with slightly smaller pixels (1.5µm vs 2µm), which makes the iPhone 5s resolution double compared to HTC One (8MP vs 4MP).
Being the only smartphone in this test that has a 1/3.2″ 8MP sensor, Nexus 5 also has pretty large pixels (1.4µm), just like Galaxy S3 use to have. For comparison, the resolution bump we could see in Galaxy Note 3 and Allview X1 Soul (13MP with a 1/3.2″ sensor) and Xperia Z1 (20.7MP with a 1/2.3″ sensor) means that these smartphones have pretty small pixels (1.1µm). The same thing applied to Lumia 1020, with it's 41MP crowded in a 1/1.5″ sensor.