Sapphire Vapor-X R9 290 Tri-X OC Review
Temperatures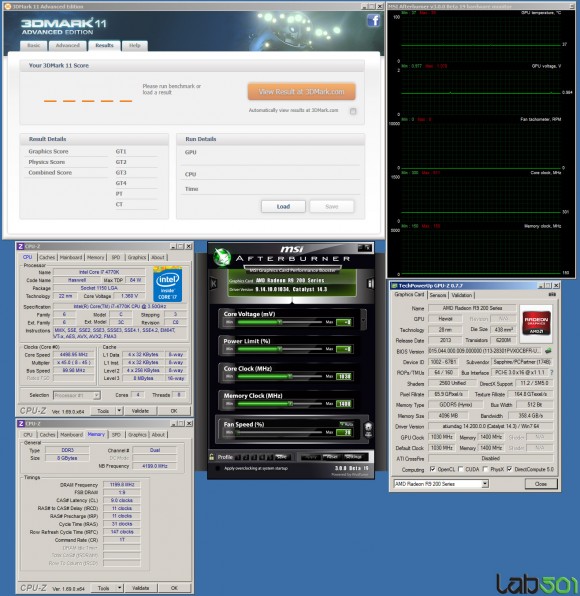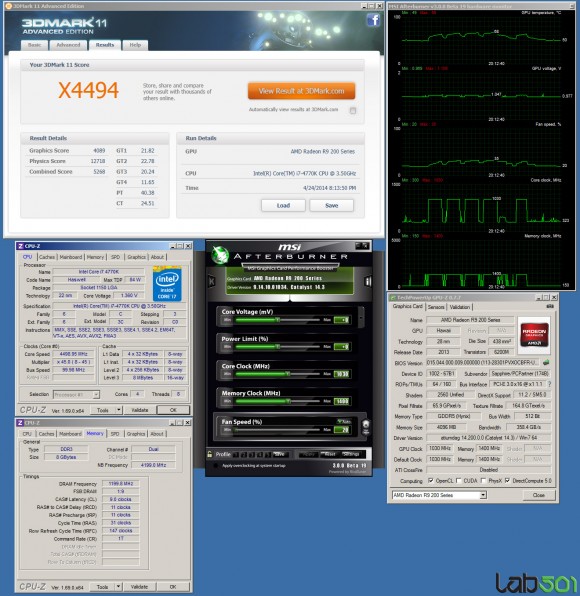 The IDLE temperature stabilized at 37 degrees C, having complete silence on my desk because only the central fan was spinning at 20% fan speed. Because it's one of the most demanding benchmarks, we ran the Extreme preset of 3DMark11 and measured again the temperature and fan speed . The maximum temperature reached during the test was 68 degrees C and the speed of the fans were 35% (at this speed, the fans got noticeable but not annoying). The LOAD temperature is very good considering the factory overclocking but also compared to the reference board which is much warmer and noisier. Comparing the results which are identical to those of R9 290X Tri-X OC equipped with 2 slot cooler and without vapor chamber technology, I can say that I'm not really impressed. In IDLE Vapor-X R9 290 Tri-X is one degree hotter but is quieter thanks to IFC technology that keeps only a single fan running while all three fans are running for the Tri-X R9 290X OC.
Overclocking
We already talked about performance in the article from November last year, so we will not return to this subject. Instead, the overclocking potential is what concerns us the most using MSI Afterburner for setting and monitoring.
The factory overclocking is a nice bonus, but we cannot be happy only with that. I set the voltage at 1.11v (an increase compared to 1.04v which was set by default) and the Power Limit at 50% and then I started the adventure of searching for the maximum frequency at which I can run 3DMark11 Extreme. Finally, from a factory GPU clock of 1030MHz, I managed to get 1150MHz for the GPU and 1720MHz for the GDDR5 memory (default VDD), a good gain for such a complex GPU and considering that the increase in GPU voltage was minimal.
However the overclocking on these AMD graphic cards is pretty tricky because the frequency or voltage is throttled by the Power Limit set in BIOS (as seen on the graph in Afterburner). I couldn't set a higher voltage for the GPU (although it was possible through Sapphire TriXX utility) because the VGA card reduced its frequency even under factory settings due to exceeding the Power Limit set in BIOS. This is set at a much more conservative level than in the case of R9 290X Tri-X OC where I could even apply 1.4v. This is strange, because the Vapor-X series should be positioned at the top of the Sapphire range of graphic cards.
Here, in the overclocking chapter we can see the true performance of the Vapor-X cooler, it managed to keep the GPU within 75 degrees C considering that the fans rotated at a speed of 42%, being set on Auto. They left the silence area, but the noise level is still much lower than the reference model.