One Plus One Review – The 2014 flagship killer
One Plus One
Here at LAB501 we always reserved a very special place for "that kind of phones", no matter under which category they fell under. Sometimes we discuss products that would go unseen if somebody wouldn't test them thoroughly (Acer CloudMobile S500 for instance) other times we test smartphones that get everybody's attention (Xiaomi Mi3 for example). Sometimes we review products that are really easy to get, other time we review smartphones that are very difficult to get and may never be officially sold outside of China. And the truth is that the most special smartphones are not the flagships everybody is getting hyped about but "that kind of phones" that offer much more for their price compared to what the flagships offer related to their pumped prices.
This is exactly the case with the product we are discussing today – One Plus One – a true high-end beast sold for a mainstream price. Of course, most of you will wonder how is this possible. Well, the answer is pretty simple – intelligent marketing… Pure marketing. Why am I saying that? Because we all well aware that the real price of a product is much smaller than what we have to pay for it. However, beyond sheer profit this price also covers research and development, sales channel incentives, client support, marketing budgets and all that. And even so the profit is pretty massive.
So how can you manufacture a high-end smartphone and sell it for a mainstream price? Well, it's a different type of marketing. You attract customers through smart marketing that requires little to no budget at all (you can buy it only by invitation only, it has CyanogenMod installed from the factory, etc) and you change the sells strategy – sell it directly from your stock instead on relying on distributors. Companies like Oppo and Xiaomi showed that this is a really viable solution. First you create the demand (we will give you a flagship killer for the price of a mainstream phone) and get the fans on your side. Then you eliminate the distributor out of the picture and sell straight to the end user. And by sell I mean you sell out your entire stock in a matter of minutes
I know it does not seem much but Xiaomi proved with the Mi3 that this strategy is a winner for smaller companies, selling millions of units in less then 5 minutes. Well, maybe the guys from Oppo didn't want to use the same strategy for their own brand, counting on the premium allure of their products. But this does not mean that they didn't invest in another brand, One Plus, that would use the exact strategy of Xiaomi and also add a few twists in it. And it worked – the initial One Plus One stock was sold out in less then a minute. I know that something around one million units does not seem like much compared to the numbers Samsung and Apple are moving, but think about how it is for a small company to instantly get a 2-300 million USD capital in less then a minute, with virtually no marketing budget.
Combine this with top notch specs that would make any 2014 flagship blush and scarce availability and it is not so hard to understand why a smartphone manufactured by a new brand got cult status in a matter of months. Luckily it was not the ype that got our attention but the specs of the product. And because it is worth it, we took One Plus One for a spin to see what lies behind the hype.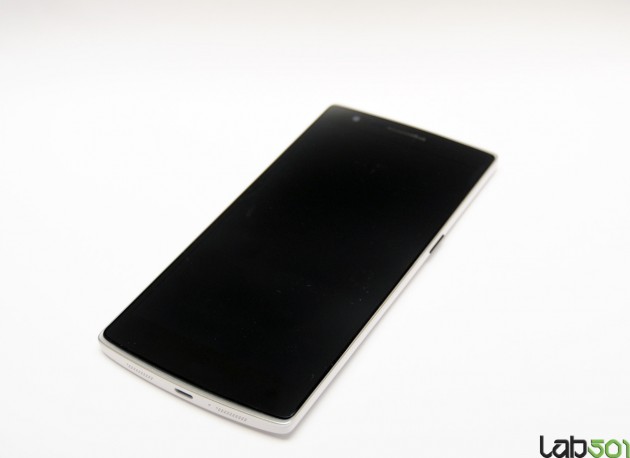 Specs
| | One Plus One |
| --- | --- |
| Chipset | Qualcomm MSM8974AC Snapdragon 801 |
| CPU | Quad-core 2.5 GHz Krait 400 |
| GPU | Adreno 330 |
| Display | LTPS, 5.5" 1080 x 1920 pixeli, 401 ppi |
| RAM | 3GB |
| Storage | 16 / 64 GB |
| Connectivity | Wi-Fi 802.11 b/g/n, Bluetooth 4.1, A2DP, LTE |
| Camera | 13MP, 2160p@30fps, 1080p@60 fps / Front 5MP, 1080p@30fps |
| Android | Android 4.4.2 Kit Kat - CyanogenMod 11s |
| Battery | Li-Po 3100 mAh |
| Size | 152.9 x 75.9 x 8.9 mm |
| Weight | 162g |
| Price | 299 USD / 349 USD |
On their website, One Plus is calling out One Plus One as being a 2014 flagship killer – a little too bold from a new brand, if you ask me. But when we take a look at the specs, we start to believe their claim.
Inside One Plus One we can find a Qualcomm MSM8974AC Snapdragon 801 chipset, the exact type of 801 chipset Galaxy S5 is using. The difference between this version and the AB version used by HTC One M8 (for example) is that the Adreno 330 GPU is clocked at 578MHz. If that was not enough, One Plus One is one of those select smartphones that come with 3GB of RAM. And the storage versions are also appealing – 16Gb or 64GB.
The 5.5″ display comes with Full HD resolution (1920×1080), more than enough if you ask me, while the battery has a capacity of 3010 mAh. In the camera department we find a Sony Exmor IMX214 sensor and a fast f2.0 lens. Just like other flagships, One Plus One can capture 2160 @ 30 fps or 1080 @ 60 fps (real slow mo) but it also features the option to shoot 4K cinematic (4096 x 2160 @ 24 fps). The front camera is also flagship material, with 5MP and 1080p @ 30 fp recording.
We left the best for last – there are two commercial versions of One Plus One – the one that is sold in China, which features Oppo's Color OS, and the international version, that is delivered with CyanogenMod 11s (4.4.2) from the factory.
Package and accessories
Well, the specs looked promising so I was curious they how would deliver a flagship killer. And even though I didn't have too high expectations, I must say that One Plus One amazed me when I opened the box for the first time (well, actually boxes, because the power adapter is delivered in a different box).
The red and white themed box houses the phone and the accessories. The SIM tray eject pin has it's own rubber housing, which can be used as a key-chain, while the USB->micro USB cable is one of the most stylish cable I have seen so far.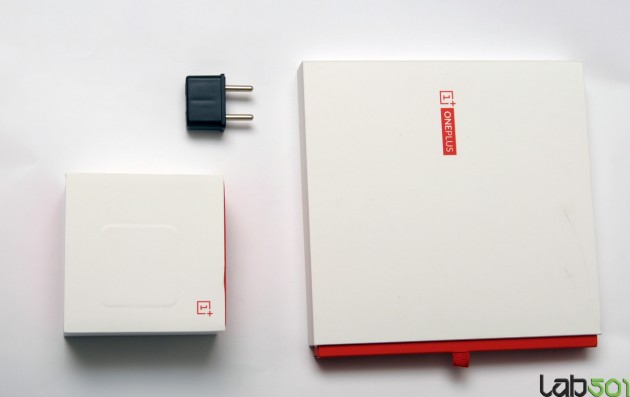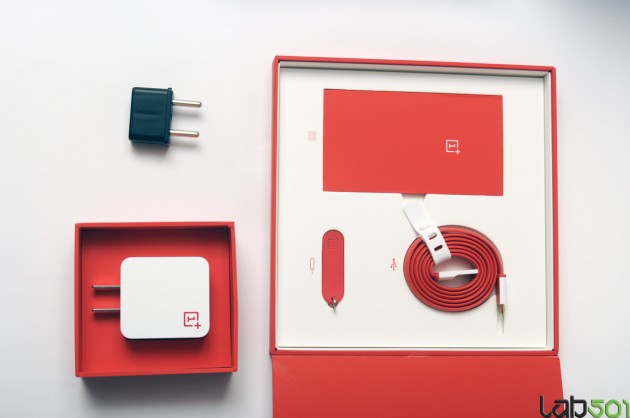 Design and built quality
One Plus One is a very stylish phone, but not in a HTC One M8 way but more in a LG G3 stylish way. Even though it does not have a metalic housing, the built quality is very good, the bezels are very small, the back has a nice texture and the phone is slimmer on its edges then in the middle, like most of the flagships from 2014.
Above the screen we ca find the front camera, the main speaker and the light and proximity sensors, while the capacitive keys are located under the screen. The interesting part is that you can turn these off and use on-screen keys like with the stock Android devices.
Another very interesting aspect is that One Plus One has 3 microphones in total, in order to get a better level of noise cancelling.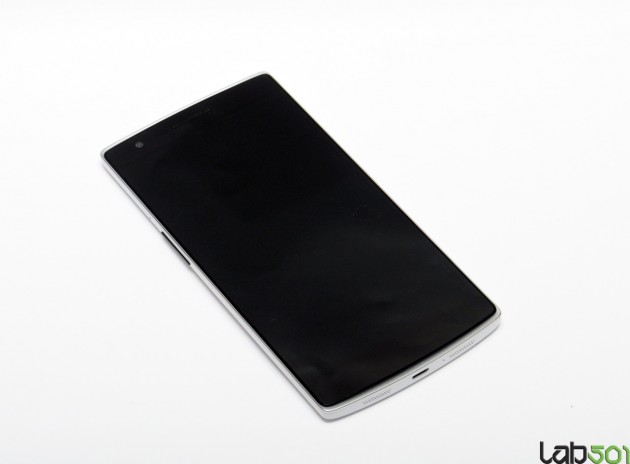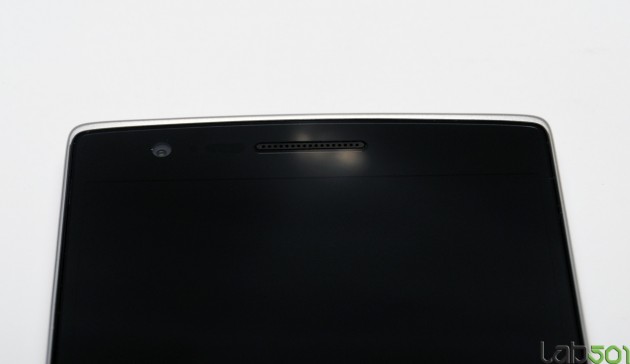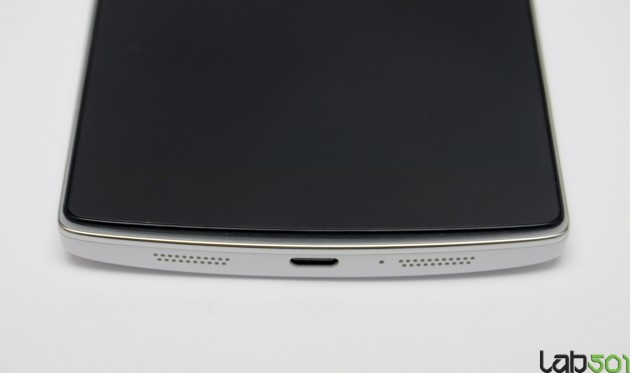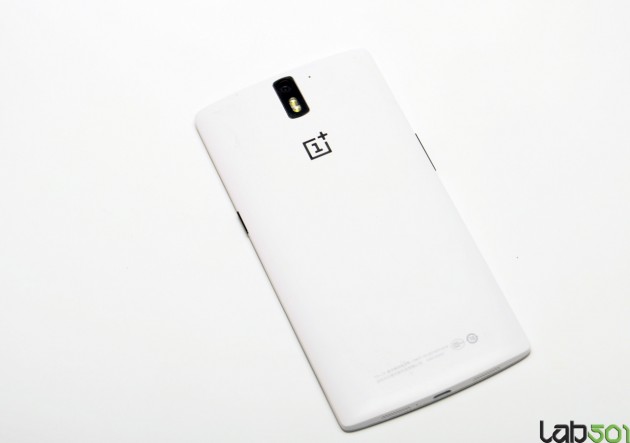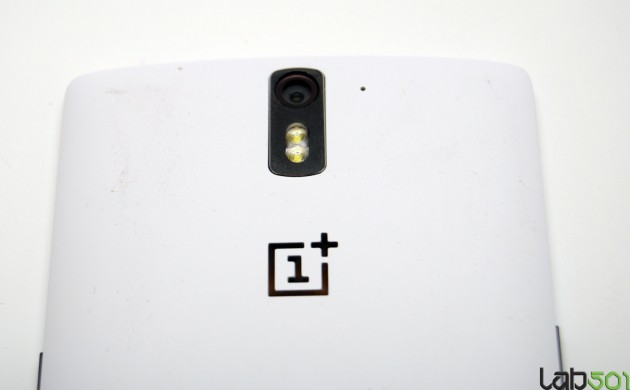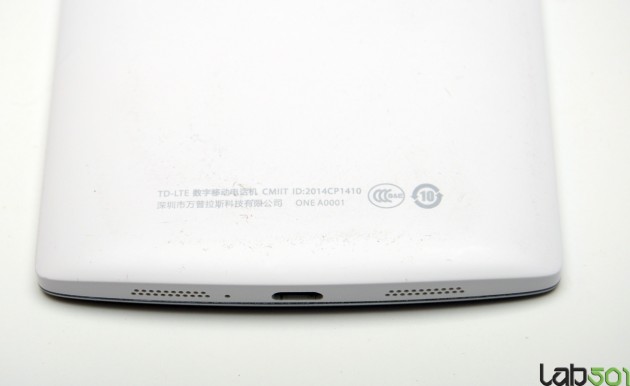 The buttons on One Plus One are placed in "the Samsung way", with the volume +/- rocker on the left side and the power button on the right side. I am happy to see that One Plus One paid attention to the big manufacturers and took some important feedback from there, and I am talking about placing the power button lower on the phone so even people with smaller hands can access it wit ease.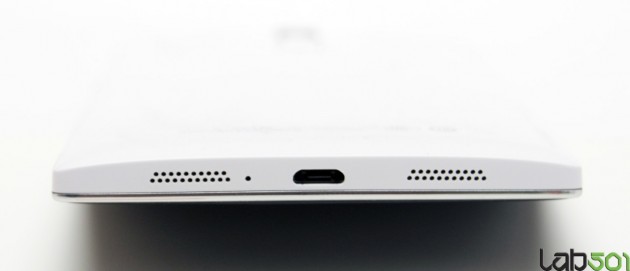 Display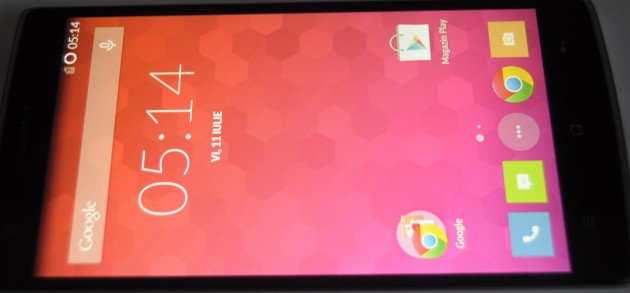 The Japan made display offers very generous viewing angles (IPS) and it is also very bright (499 cd/m2). Unfortunately the black levels are not that good (0.45 cd/m2) so the contrast is not as high as you would expect on a flagship, but still ok in my book (1108:1).
Camera – menu
As I was saying, One Plus One comes with CM11s installed, so the camera menu is simple and intuitive. We can quickly access the most important settings and shooting modes, and we can also find some interesting settings (like 90%, 95% and 100% image quality) or the 4K DCI shooting mode. One Plus One is pretty fast when it comes to shooting photos and you won't miss important moments because of the phone. Another interesting thing – you can move the main buttons on the left of the camera app in order to offer as much comfort as possible to all the lefties out there.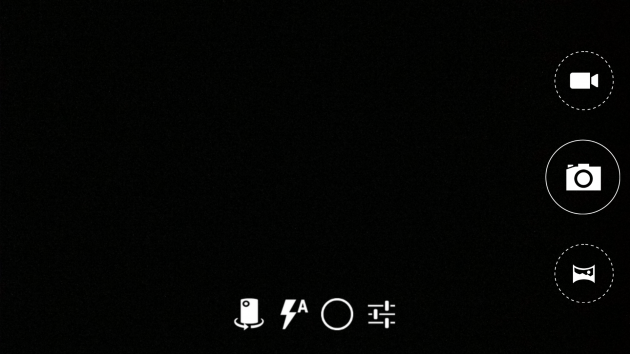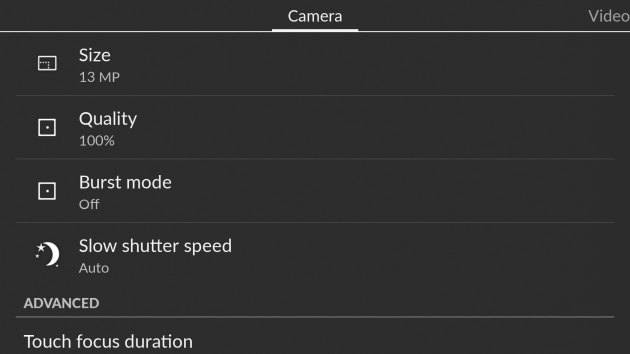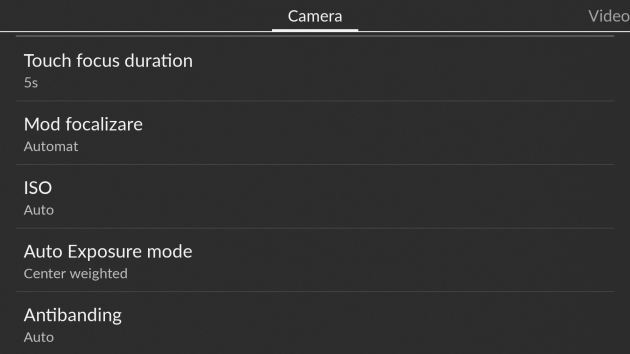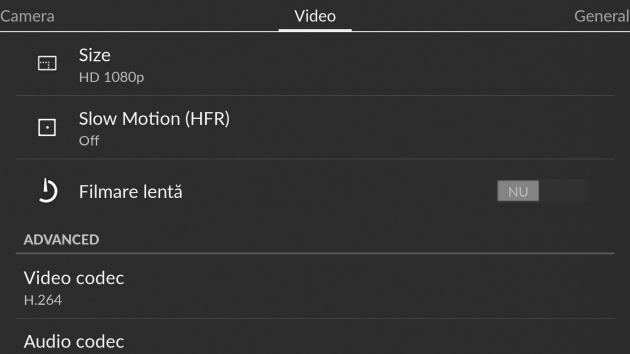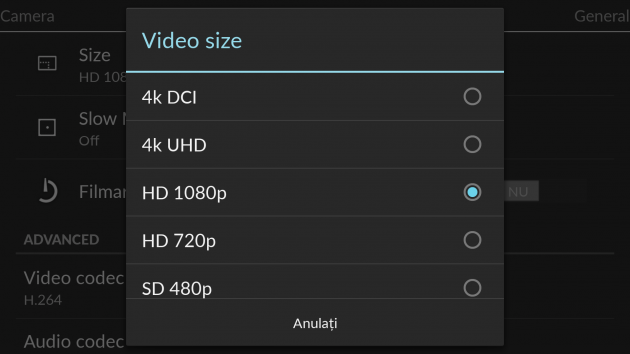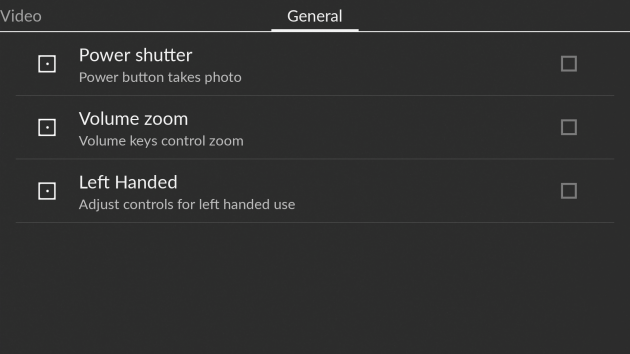 Camera – pictures
Being based on a Sony Exmor sensor and a good quality lens I had high expectations from One Plus One, and the phone met all those expectations. The phone focuses and snaps quick and smooth and it is a pleasure to work with. And of course, the image quality is comparable to what we saw in most of the 2014 flagships cases.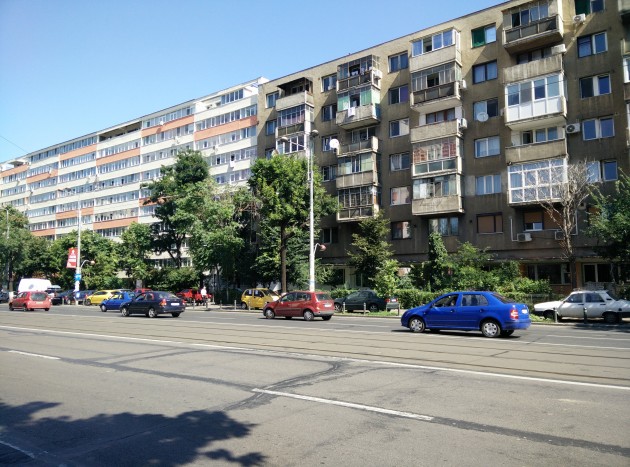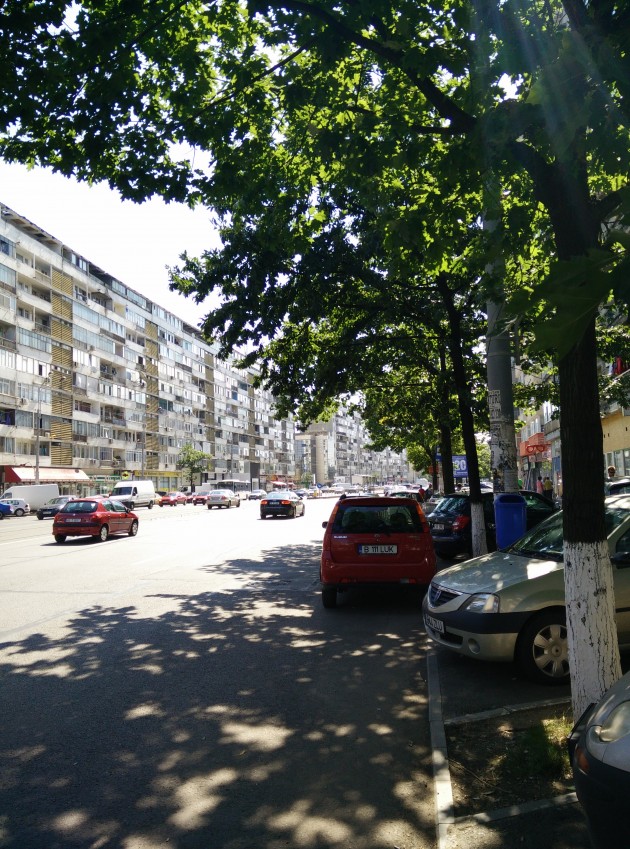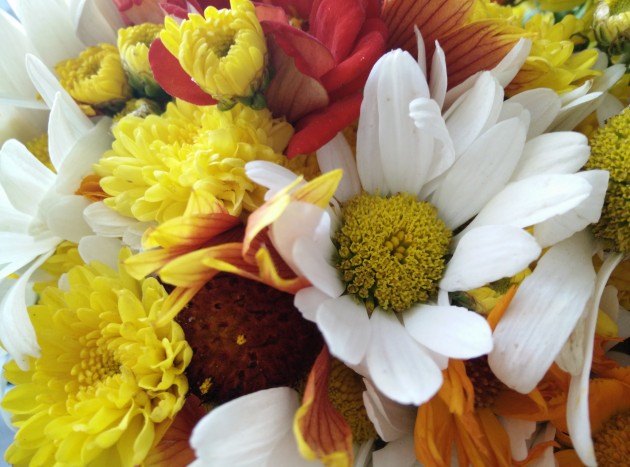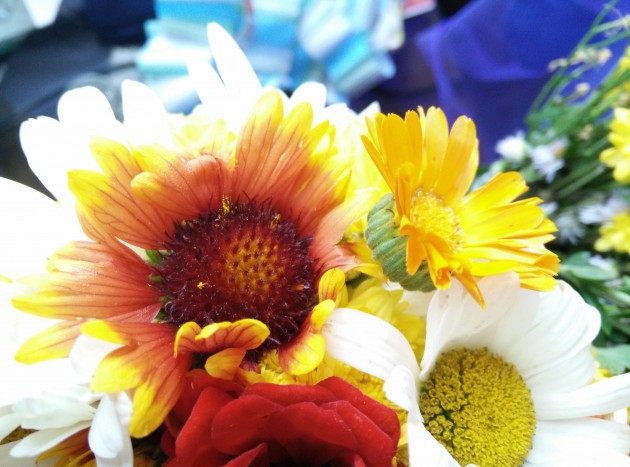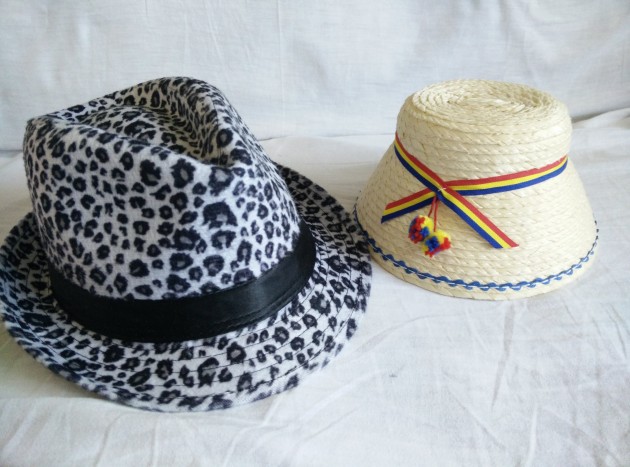 Obviously, when we test a high-end smartphone we will also test in very poor lightning conditions, so we went out before dawn and took some more shoots. In this situations we could see a bit of over saturation and also a reduced dynamic range, but overall One Plus One did a nice job in very difficult conditions. I don't think it is a Galaxy S5 killer in daylight or a HTC One Killer in low light, but it can take on any flagship released in the last year for sure.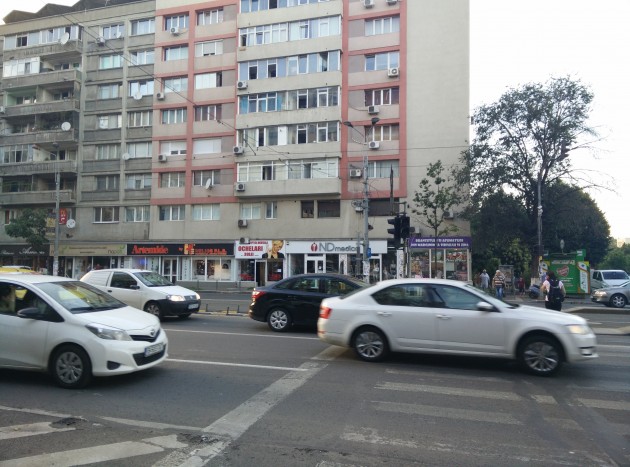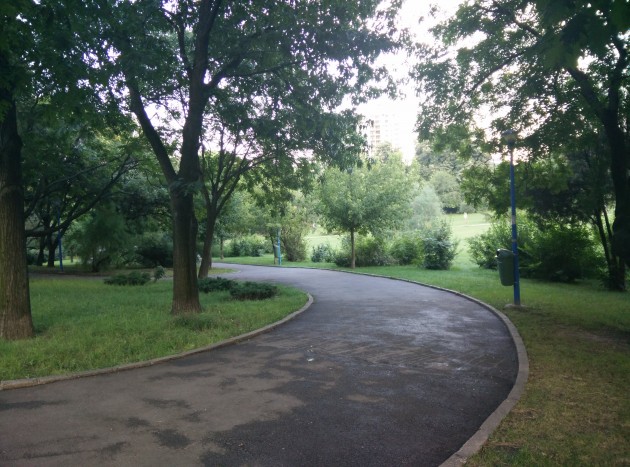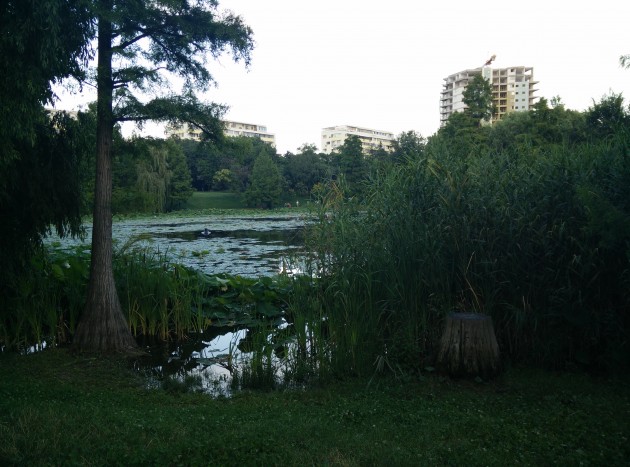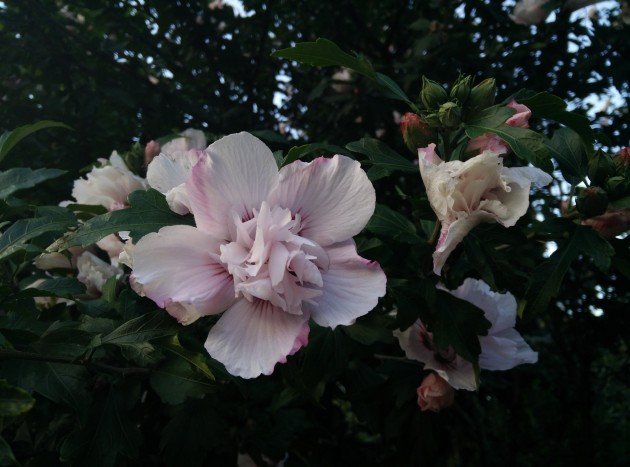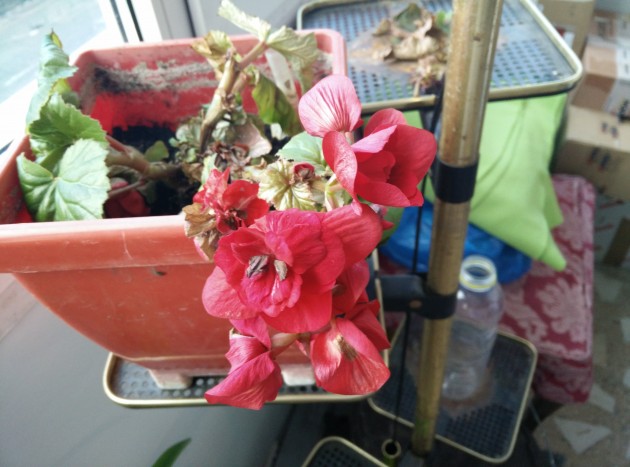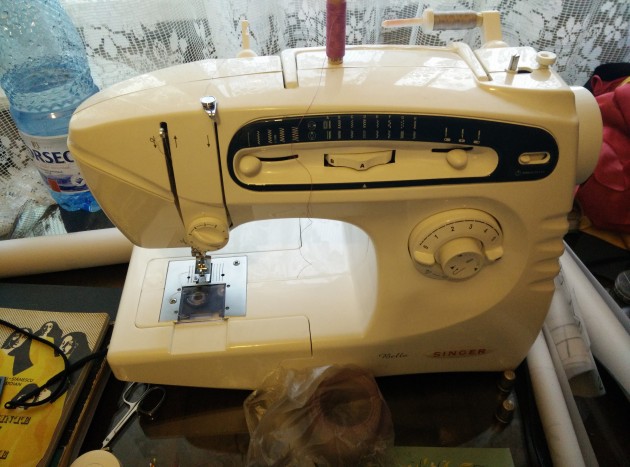 Camera – Video
I have no objections when it comes to video quality – One Plus One offers function we can only find on a few select smartphones and the quality of the movies is very good. Maybe I would have liked to see a less obvious exposure correction in low light, but even so this is one of the best shooters I have ever seen so far.
Software
Probably one of the best idea the guys from One Plus had was making a deal with Cyanogen. One Plus One comes with CM11s installed and it has full support from the Cyanogen team. That means OTA update straight from them and so on. Because of that, One Plus One offers everything you might need in a very fast, compact and efficient software packaging. The CyanogenMod 4.4.2 moves like butter, and in a few days since I got the phone I also received a couple of OTA updates.
One Plus One has flagship performance, without any doubt. In every benchmark it manages to get into the leading platoon and even if it does not get the first place, the daily use difference between One Plus One and Galaxy S5 (for instance) simply does not exist.
Performanta browser
3D performance
When it comes to 3D performance, things are looking even better – the higher clocked GPU shows it's power and One Plus One gets a place in Top 3 in every 3D benchmark we tried.
Battery life
When it comes to battery life, we are using our own app LAB501 Battery Life in order to obtain results that can be compared with other phones over a long period of time. All our battery life tests are done with WiFi ON and the brightness set to 100%. This scenario does not reflect how the phone will perform in daily use, because every user has a different behaviour, but it gives us the ability to compare how different smartphones perform while running a 720p video and playing a game.
Usually, when we see a battery bigger than 3000 mAh we would always assume that the battery life will be great. And I cannot say that One Plus One doesn't offer enough battery life, but we have definitely seen better results from Samsung and LG lately. And the reason is very simple – when set to 100%, One Plus One's display is very bright. However, you can spend a whole day away from the power outlet without too much concerns.
We also had a surprise when measuring the temperatures, but in a different way. Even though it has a Snapdragon 801 inside, One Plus One didn't get too hot in our tests, the maximum temperature measured on the outer casing being 37.4 oC.
Final thoughts
So…we have reached the end of our review and we have to sum it up. Stylish smartphone with premium feel? Check. High-end performance? Check Good camera with advanced functions? Check. Well… then it should be pretty simple – we have a winner.
If we analyze phones just by ticking boxes on a list that would be the conclusion. However, One Plus One does more than simply tick some boxes. On one hand, we have a really high attention to detail – the USB cable is very special, the pin has its own rubber casing, we have a third mic for noise cancelling and a cinematic 4K shooting mode so on.
And it does not stop here, because this is when "the bomb" comes – normally, the 16GB version should cost 299 USD while the 64GB version should cost 349 USD. And this is very important because offering such a package for such a price is something you don't see very often.
So all is wonderful and One Plus One is the supreme smartphone, right? Well…not so fast… because behind all these marvelous things there are also a few caveats. Personally I do not mind the lack of transparency (the fact that One Plus is owned by Oppo only surfaced a few weeks ago). But I do mind one thing – availability… or better said… the lack of availability.
When it comes to smartphones we cannot talk about paper launches (like we do in the hardware business) because all manufacturers first announce their product and only then release it in the stores. And the "invitation only" strategy was one of the key selling points of One Plus One. But… when the 16GB version should cost 299 USD and you cannot purchase it from One Plus's website but you can find it for 399 USD on various chinese websites…Then we have a problem. And when they take like 3-4 weeks to send the product to their international buyers, we have another problem.
In the end, it would seem that the marketing strategy One Plus used for this launched worked even better then they expected. And for this reason, the company cannot honor all their orders at the moment. And if One Plus wants to become a major player and the investors from OPPO want to multiply their investment, than this issue should be solved as quick as possible.
Leaving availability and also borrowing some AMD slogans like Never Settle aside, I can say that we have tested one of the most powerful, stylish and interesting smartphones launched in 2014. One Plus One can compete without any problems with big names like Galaxy S5, LG G3, HTC One M8 and Xiaomi Mi3. And honestly speaking, I would like to see them solving their availability issues, because the public reaction showed that we need a brand like One Plus and a smartphone like One Plus One would be a breath of fresh air for all those tired with the strategies displayed by the large companies.