Interview – Christian Morales, Intel Vice President & General Manager EMEA
Christian Morales
I don't think there is a LAB501 reader that hasn't heard of Christian Morales, Vice President and General Manager Intel EMEA. In the last years, Mr Morales has been one of our favorite discussion partner from Intel, so we couldn't miss the opportunity to meet him again in MWC 2014. That being said, we asked Mr Morales a few questions for our readers.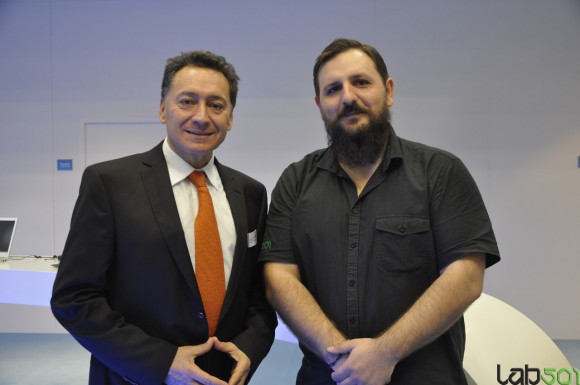 lab501:Hello and nice to see you again! Last time we met in CeBIT 2013, when we discussed Intel's strategy in the mobile market. How did things work out for Intel in the last year?
Christian Morales: First of all, we launched more smartphones and tablets – the mobile segment is not made entirely out of smartphones, but also tablets, convertibles and so on. We were very active from this point of view in Europa and Africa, and of course, yesterday we launched two new architectures (dual-core and quad-core). The dual-cores will be available on the market in the first half of this year, while the quad-cores will enter the market in the second half of this year. We are talking about chips manufactured on 22nm, which bring more powerful graphics but also greater battery life. Also, this year we announced one of the most competitive LTE solutions on the market.
lab501: Speaking of LTE, there are rumors that you could license this technology to partners. Is this true?
Christian Morales: As far as the LTE solution is concerned, we are taking a few different steps – the production of a separate LTE modem, which can be offered to those who want to use it in their smartphones and tablets, is the first step, while integrating this solution in the CPU is the next logical step, so we can offer a full option SoC.
lab501: Smartphones and tablets had an increasing success last year. How did the PC Client (notebook/ultrabook/PC) segment of the market perform?
Christian Morales: The 4th generation Intel Core (Haswell) broke new sales records, and the ultrabooks and the 2 in 1 devices helped a lot. Three years ago, when we were launching the ultrabook concept, only 7% of the notebooks werw thin& light. Now, more then a third of them are thin & light. This trend will be pushed forward by Broadwell, which we will announce in the second half of this year.
lab501: Will we see Broadwell desktop chips this year or only the mobile versions?
Christian Morales: First we will launch the mobile versions, but you will see Broadwell in desktops later on, especially in All In One devices and high-end / enthusiast machines – mainly the segments of the desktop market that are constantly growing .
lab501: As always, we conclude our interview with a classic question – what do you think about the PC Client segment evolution in the last year and how do you think this segment will evolve in the new period of time?
Christian Morales: Last year we saw an overall decrease of the PC market, but the ultrabook, convertible, All in One and Enthusiast PC segments grew constantly. In fact, in Q3 2013 we had a record number of sales for Core i5 and Core i7 models and Intel as a company grew, compared to Q4 2012. Overall, it is possible that the PC market continues to shrink a bit in the next years, but the categories we talked about will definitely continue to grow. If we add smartphones and tablets to those categories, we get a whole range of smart devices we use to communicate and connect to the cloud, and this whole portfolio is what is giving us the edge.
lab501: Thank you for your time!