Haswell-E – Intel Core i7 5960X Review
Models and pricing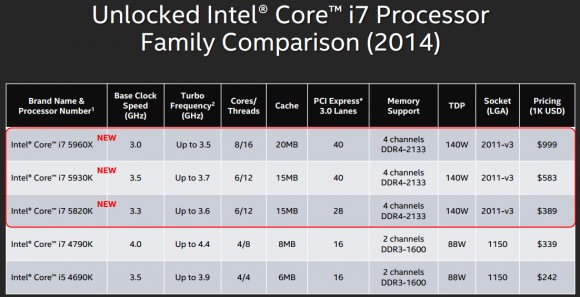 In the beginning we will have 3 new Haswell-E CPU's: Core i7 5960X, Core i7 5930K and Core i7 5820K, which have the same price scheme with the CPU's they are replacing. However, the only the Extreme version (5960X) has 8 cores – the K models only come with 6 cores and 12 threads.
Also, beside the clock difference, Core i7 5820K only has 28 PCI-Express 3.0 lanes, which means you will not be able to use it for 4-way multi-card configurations. It will however be able to support 2-way (16x / 8x) and 3-way (8x / 8x / 8x) configurations. Another interesting thing with Intel X99 is that the M2 port is connected to a PCI-Express 3.0 lane straight from the CPU which means we will see better performance numbers for such devices on X99.
The CPU's launched today use the same Intel Turbo Boost 2.0 technology we saw at work in the last couple of years. That means that even if the base clock is really not that impressive, the CPU's can work at a much higher clock, depending on the load. For instance, i7 5960X can go as high as 3.5 GHz on one core while i7 5930K can go up to 3.7 Ghz on one core. Maybe the most interesting version is the Core i7 5820K version, which costs 50 USD more than 4790K but it comes with 6 cores / 12 threads, a base clock of 3.3 GHz (3.6 GHz Turbo), 15MB cache L3 and DDR4-2133 quad-channel memory.
As usual, today we will test the very best of the best, the flagship model Intel Core i7 5960X, which you can admire in the pictures bellow…