Clash of the Titans VGA 2014 – ASUS Geforce GTX 780 Ti DirectCU II vs ASUS Radeon R9 290X DirectCU II
ASUS Geforce GTX 780 Ti DirectCU II vs ASUS Radeon R9 290X DirectCU II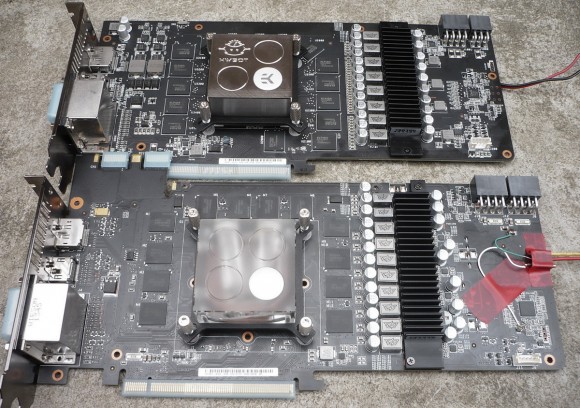 A few months ago I made a promise on the forums that I would write an article on overclocking in which the GeForce GTX 780 Ti would face the Radeon R9 290X in a true battle of the VGA titans. At that time, reference models were the only ones available and neither of them being particularly well suited for serious overclocking or endurance testing, mostly due to their far from stelar VRMs. Given this, the results would have been mediocre at best, and surely the testing would have ended with a couple of "funerals."
I really love a GPU with a huge die area because this translates into many transistors and immense computing power, very well suited for benchmarking. A big GPU demands respect and comes with a certain wow factor when you first lay your eyes on the silicon die, as those who have seen a G200 without the IHS know very well. The G200 still has the biggest die area of any current and past GPUs, being one of the few members of the 400mm+ club, which you can see below. AMD joined this club last year with their first GPU that fits the size criteria, I'm referring to the Hawaii core with its 438mm die.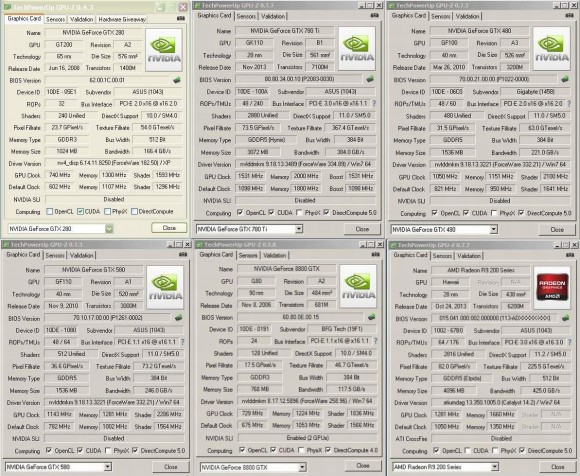 So we have the most powerful GPUs ever produced by NVIDIA and AMD, and both will be subjected to extended stress testing under tough conditions just so we can properly evaluate the strengths of the DirectCU II designs. We will test their overclocking potential on both air and water and we'll see how both cards scale with voltage and temperature. In a sense we are lucky because both GPUs have the same ASIC quality (72%) as measured by GPU-Z, which is good for our head to head comparative testing, but may not be so good for the final overclocking results (over 80% ASIC quality as measured by GPU-Z is preferred).
Anyway, you can't really rely on such values when evaluating a GPUs potential, there's no replacement for actual testing, even so I'm not that pleased with the ASIC values, I wanted to see some big numbers, even if just for "peace of mind" purposes. Speaking of "silicon quality", the ASIC quality is no guarantee for anything as there are two other very important factors that influence the overclocking potential more than the ASIC does: voltage and temperature scaling. Or if we move to extreme cooling, there are even more influential factors involved, such as coldbug, coldboot and cold scaling .
The graphics cards from ASUS' DirectCU II series are my favourites when it comes to bench and, before proceeding, I would like to share my latest experience with a VGA card from this series: using an ASUS Geforce GTX 580 DirectCU II I have exceeded 1100MHz GPU clock for 3DMark Vantage, a difficult load for GF110.
The DirectCU II version of the GTX 580 is a work of art, from overall strength to individual component quality and GPU VRM stability, built with no less than 32 MOSFETs (for comparison purposes, I can tell you that the MSI Lightning GTX 580 only has 28).
ASUS Geforce GTX 580 DirectCU II – 1143MHz Vantage @ watercoling (worth mentioning that the highest frequency on HWBot in Vantage with the GPU on WC is 1100MHz)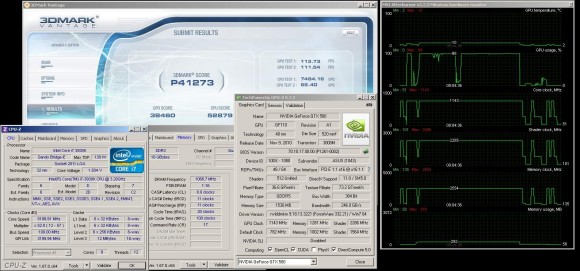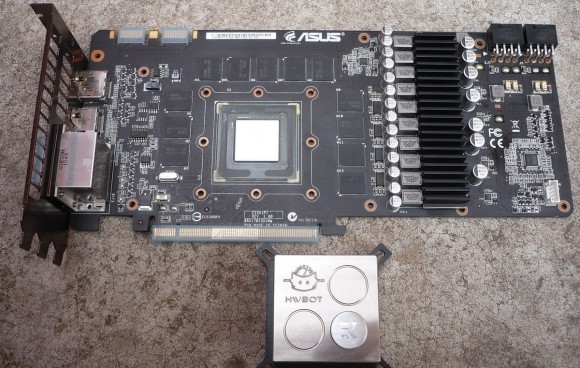 Another important fact when talking about quality: look carefully at the corners of the GPU and you will notice that it is fixed with adhesive for added protection in case of PCB bending. Long time ago, on certain video cards a metal frame was fixed around the GPU, one of them being the 8800GTX, a legend that's still alive.
There are many other details that would not be noticed by an untrained eye, such as the PCB bending due to bad cooler design (see MSI), component placement on the PCB, soldering quality, VRM MOSFET positioning so that it will allow direct contact with the metal heat sink for best heat transfer, and many others …
As a simple example: fitting the GTX 580 DirectCU II with a ZEROtherm HC92 doesn't generate any bending of the PCB, while on the MSI GTX 570 TFIII PE the same cooler will visibly bend the PCB. It doesn't really impact performance but it matters to me, as everything has to be perfect in order for me to be completely satisfied. Even if it has a big and ugly cooling system, the GTX 580 DirectCU II is the standard by which all the other video cards will be "judged."
Unfortunately, just like in the cooling industry these days, the trend here is to reduce quality, a practice that I can not agree with and I will keep pointing out every single flaw or unsatisfactory aspect that I notice. This is not an article for the average user so we cannot get over certain critical aspects for us overclockers and technology freaks.
Description
The packaging, identical for both cards, provides good protection and is aesthetically pleasant, it contains an 8-pin power adapter, a CD with drivers and applications, as well as two sets of stickers for accessorizing the cooler mask. Skipping this uninteresting part, we get to the two graphic cards to be analyzed in today's article. The first thing I noticed was the cooling system that no longer occupies three slots and is also very good looking, especially due to the fans it makes use of. Both boards have the same cooling system, which we will inspect in the corresponding chapter .
Slowly we come to the "core issue," the PCBs of the two boards: I said in the previous page that the GTX 580 DirectCU II is the standard for quality and strength, we can hardly find a weakness, the attention for detail is exquisite.
The PCBs meet the established DC2 design (black colour, in-line VRM, solid heat sinks on the VRM), but in a careful comparison with the GTX 580 we do notice a couple of differences, and not in favour of the new boards. The R9 290X is equipped with Elpida BBBG memory (certified to run at 1500MHz) and on the GTX 780 Ti we see the excellent Hynix R2C (certified for 1750MHz with 1.6v), being capable of more than 2GHz with a good GPU memory controller.
It is a known fact that Samsung memories display the best behaviour in regard to voltage scaling and extreme cooling (GTX 580 DC2 has Samsung memory), while the top of the line Hynix memory chips overclock well, but do not always respond well to higher voltage and may have more cold problems than their counterparts from Samsung. Elpida memory, beside being clocked quite low by default, doesn't scale with higher voltage.
The above generalizations, of course, might be proven wrong by the tests that follow, because there are cases and cases and exceptions to the rule have always been present in this area. Another aspect that it's not in favour of the two competitors (at least theoretically) is the filtering used for the VRM: the GTX580 DC2 has ceramic, polymer and tantalum capacitors but also a Proadlizer. This means that the filtering covers the entire range of parasitic frequencies while offering the best response time.
"Dozens of decoupling capacitors in combinations that included aluminium electrolytic capacitors used at 100 kHz or less, tantalum capacitors in the 100 kHz to 10 MHz band, and ceramic capacitors corresponding to 100 MHz to 1 GHz or more were finally used to suppress noise. In contrast, one type of Proadlizer can cover a frequency area of dozens of KHz to 1 GHz that used to be covered by several types of decoupling capacitors. As well as featuring a lower impedance of the total frequency area than the conventional synthesized capacitor, it has a very flat characteristic. Due to these superior features, the Proadlizer is able to provide an even more stable power line. This allows several Proadlizers to replace dozens of capacitors. In other words, the Proadlizer not only realizes compactness and flexibility but also reduces the board mounting load and contributes to enhanced reliability."
On the GTX 780Ti DC2 we don't have any tantalum caps nor Proadlizer, while the R9 290X also boasts only ceramic and polymer caps. There is, of course, a theory behind this, and it can be summed up as follows: a VRM containing only ceramic and polymer caps works very well and the addition of other capacitor types brings no improvement. I simply wanted to point out a factual decrease in build quality, which almost certainly has no impact on performance (if we are to take the above theory as truth).
Power connectors: 2 x 8 pin for the GTX 580 DC2 and GTX 780 Ti DC2, and 8 pin + 6 pin for the R9 290X. Even if it draws significantly less power under similar conditions (as we shall see in the cooling chapter), the 290X should have two 8 pin connectors, even if only for aesthetic purposes, or "prestige."
These shortcomings (when compared to the reference I picked) don't make these two board in anyway unimpressive, both being way superior in relation to the reference designs. For now, the only thing I consider a real shortcoming is the presence of Elpida memory on the R9 290X (I would have preferred Samsung 0.28ns on both boards), but the practical tests (voltmod + OC) will lead us to the final conclusions.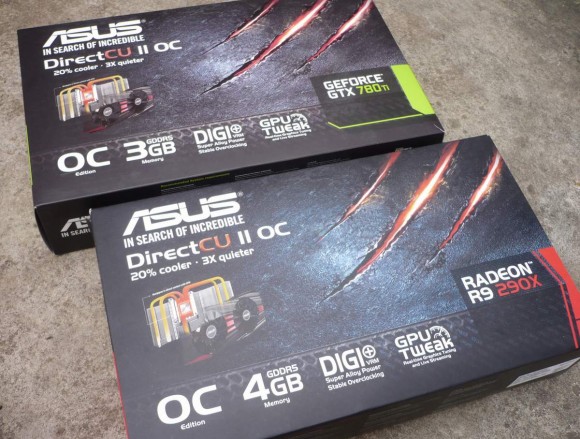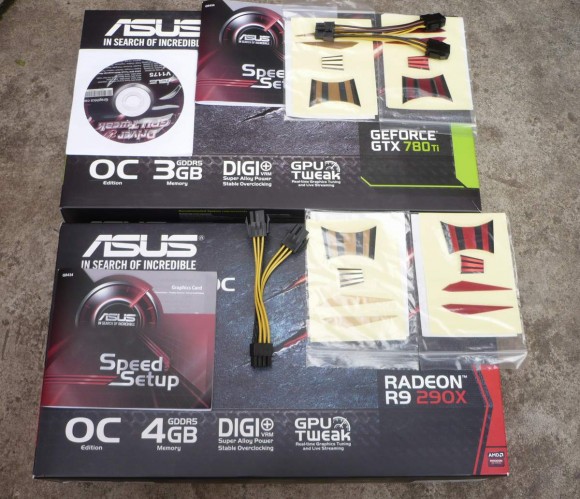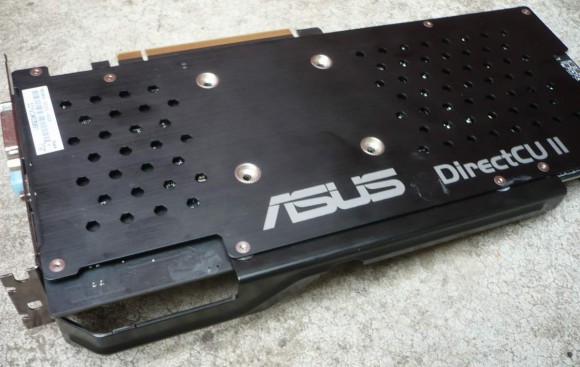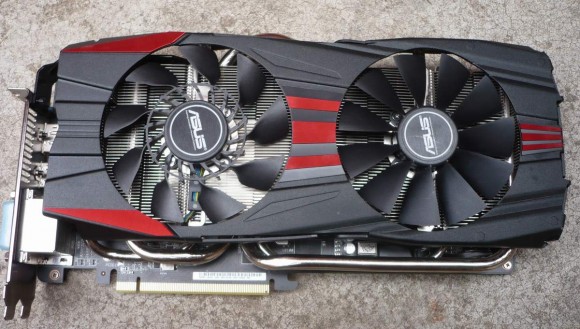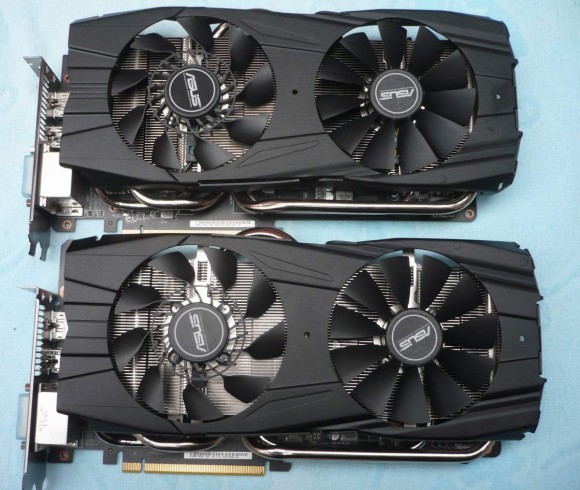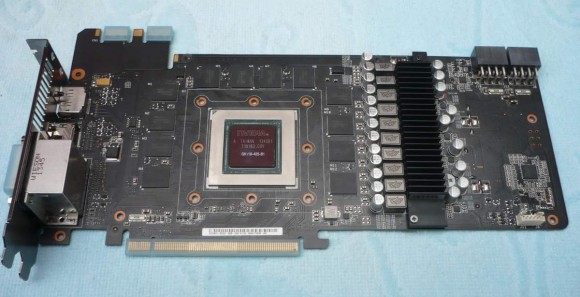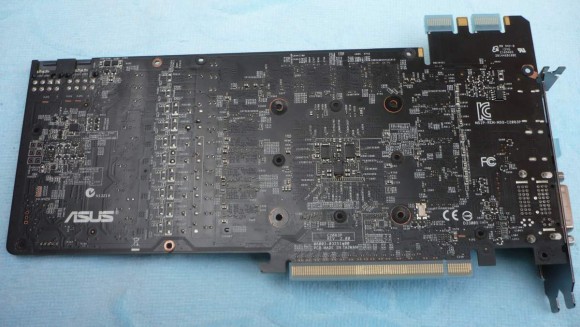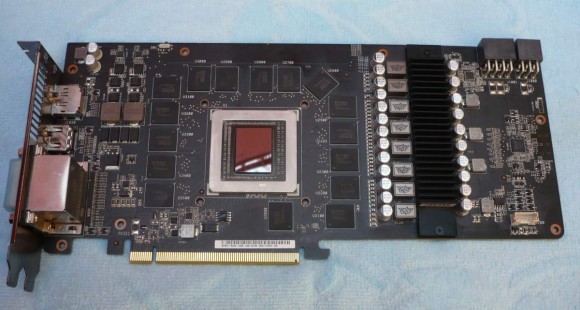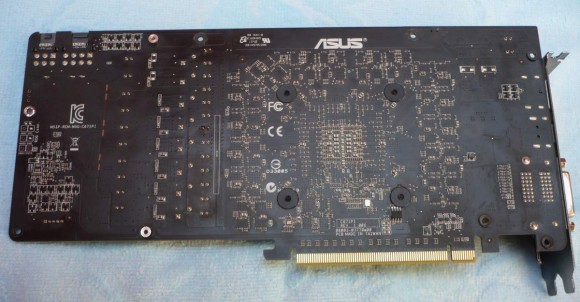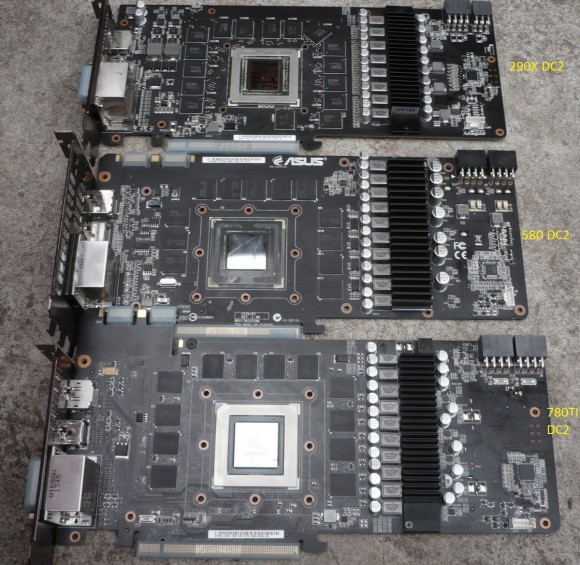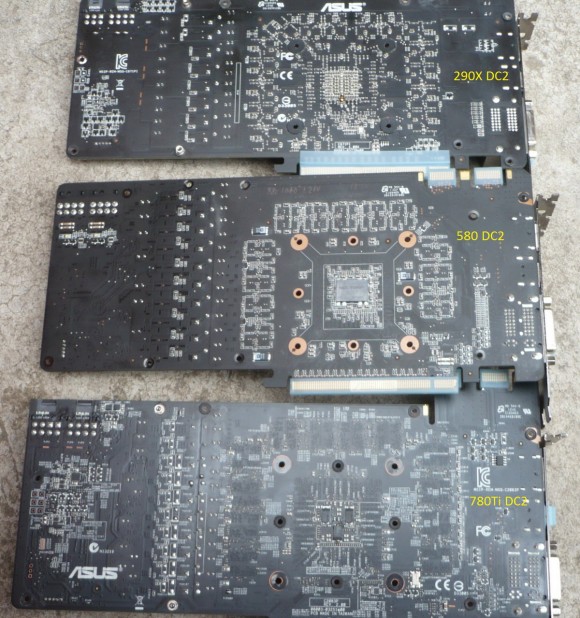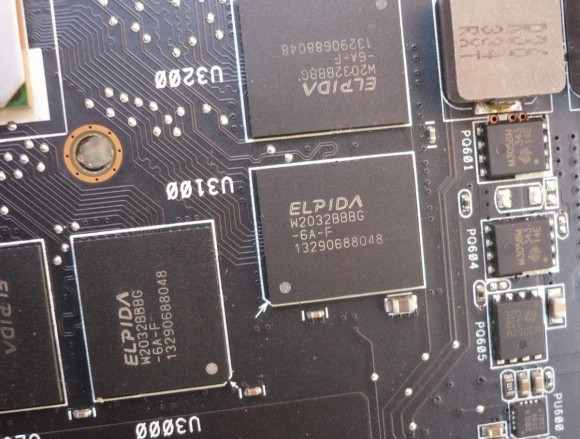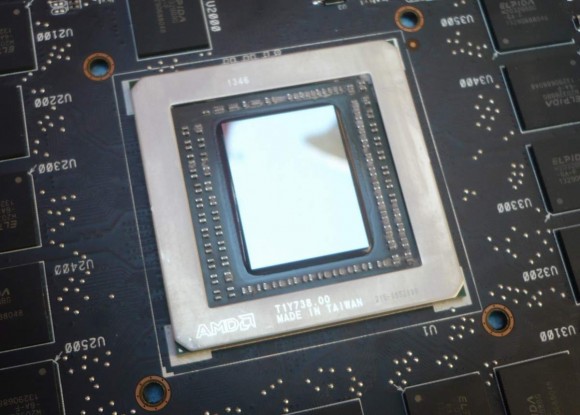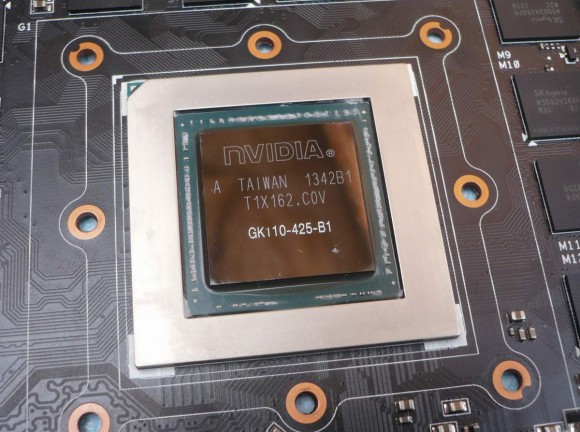 Test platform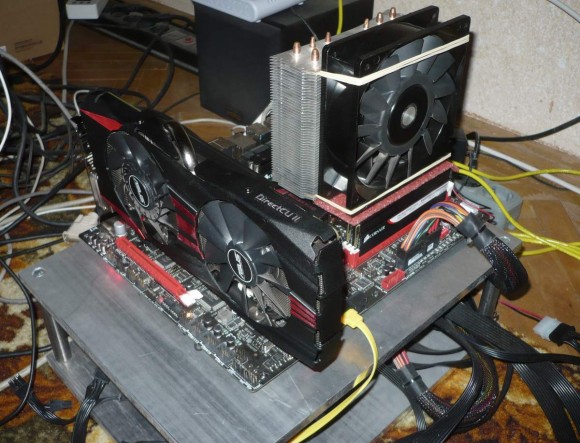 CPU – Intel Core i7 4960X
MB – Asus Rampage 4 Formula
VGA – Asus Radeon R9 290X DC2, Asus Geforce GTX 780 Ti DC2
RAM – 4x4GB Corsair DDR3 2133 CL11
SSD – Kingston HyperX SH100S3/120G
PSU – Cooler Master SPH1300
Cooling – EK Supremacy VGA, True Spirit 140, Eheim 1262 pump
TIM – Arctic Cooling MX-4
Fans used:
Scythe Slip Stream SM1425SL12H (1700RPM)
San Ace 9SG1212P1G03 (6000RPM)
Delta 1424UHE (5500RPM)
Methodology
The purpose of this article is to evaluate the robustness of the cards, especially the reliability and stability of the VRM at very high loads, overclocking capabilities and – of course – identifying any weak points.
Overclocking potential will be measured in three stages, we'll begin with the stock cooling followed by a far superior air cooling solution for the second stage, and from there we will move to a high end water cooling setup for the third and final stage.
Games are fairly useless for the purpose of this article, if benchmark tools were available for some of the games with impressive and demanding graphics (Crysis 3, Battlefield 4, Far Cry 3, etc) the situation might have been different, but it isn't..
Cooling
In past articles I have criticized the design choices and also the aesthetics of the coolers that ASUS employs for its DirectCU II series. And although stock coolers are not the focus of such articles, I certainly wasn't pleased to see ASUS making use of a HDT heat sink base, nor by the generally oversized dimensions of the cooler. The cards we will be benching today still employ a HDT base for their coolers, but at least the design has improved, now the coolers are slimmer and they sport larger fans, of which one is based on the CoolTech technology.
Construction quality is good, we have nickel plated fins and the 5 heatpipes are placed without any spacing between them, which in terms of heat transfer constitutes a superior solution to a traditional HDT base. In the future I would like to see a solid copper base for a plus of performance on the DC2 series.
We are dealing with an evolution in this chapter, the performance is acceptable, as you can see in the tests below. I tried to generate equal conditions for the tests, so we used the same voltage in load for both cards. The R9 290X bios is for LN2 (where I've used a different one I've specified), with the same voltage as standard (1.15 V and disabled 2D), and for the 780Ti I modified the BIOS to 1.15V under load, boost power off and limit to 200% (combined with a higher set TDP), changes that were sufficient to maintain a fixed frequency at the highest voltages.
We have a lower temperature for the GTX 780 Ti caused by the larger DIE, while power consumption is about 70 Watts higher for the GTX 780 Ti as well.
In this chapter we did overclocking tests with stock cooling and 1.15V under load, measuring also the power consumption.
ASUS Geforce GTX 780 Ti DC2
3DMark 2011 X, 1.15v load (MM), 21 oC ambient, stock cooling, auto RPM – 58 oC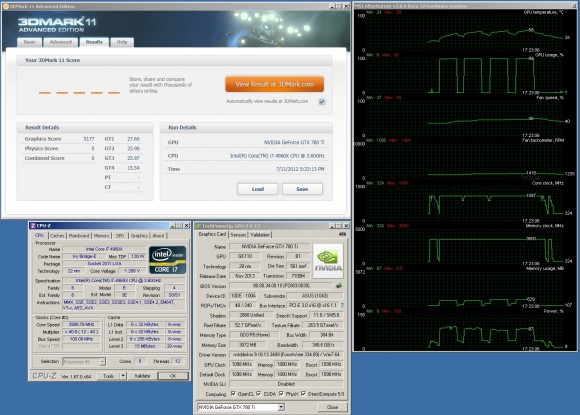 3DMark 2011 X, 1.15v load (MM), 21 oC ambient, stock cooling, max RPM – 49 oC
MAX OC
3DMark 2011 X, 1.15v load (MM), 21 oC ambient, stock cooling, max RPM – 52 oC/1251 MHz/508 W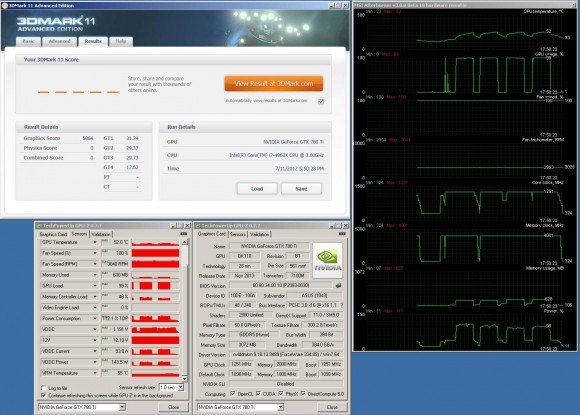 ASUS Radeon R9 290X DC2
3DMark 2011 X, 1.15v load (MM), 21 oC ambient, stock cooling, auto RPM – 69 oC
3DMark 2011 X, 1.15v load (MM), 21 oC ambient, stock cooling, auto RPM (original BIOS) – 68 oC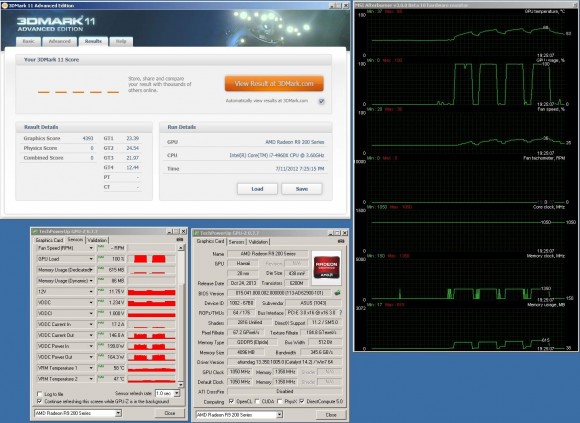 3DMark 2011 X, 1.15v load (MM), 21 oC ambient, stock cooling, max RPM – 61 oC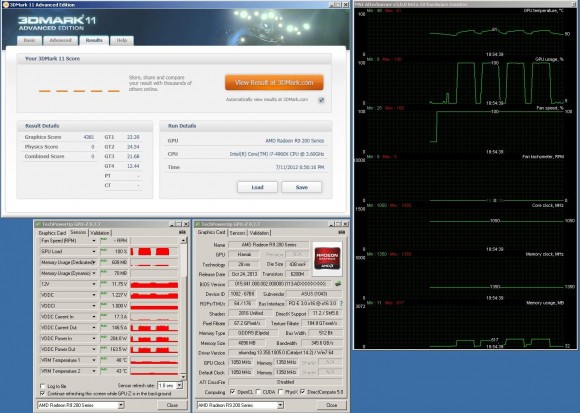 MAX OC
3DMark 2011 X, 1.15v load (MM), 21 oC ambient, stock cooling, max RPM – 70 oC/1120MHz/435 W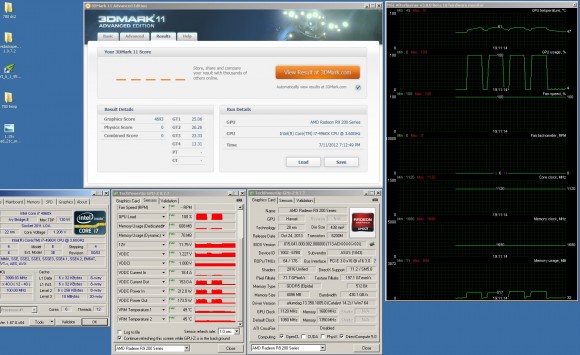 GPU frequency is stable, there are no issues with frequency drop, RPM scaling is good as well and the VRM temperature reiamns in normal limits. In regard to VRM cooling, I have to point out some design issues and heat transfer problems: the positioning of mosfets does not allow for direct heat sink contact which would improve cooling, and while the thick thermal pad does a good job, it's far from brilliant. Anyway, not a negative point since the voltage regulator is very robust, but at this level even minor design imperfections tend to stand out.
Once again GTX580 DC2 is the etalon, and here you can see that it maximizes VRM heat transfer through direct contact of the heat sink with the mosfets (just between you and me, that overbuilt VRM doesn't need any cooling). As for negative aspects, I can only mention the HDT base again, and also a better placing of the VRM components would be desirable.
With the R9 290X I did two more tests, just to see how the cooling behaves in game environments and what is the highest frequency achievable at 1.4 Volts with the stock heat sink. Ambient temperature was 23 oC and fans set on auto for the first test, while for the overclocking test fans were set to their maximum RPM. The game used was Tomb Raider, 30 minutes of continuos play.
MAX OC: 1.4v GPU Tweak – 1230MHz/530 W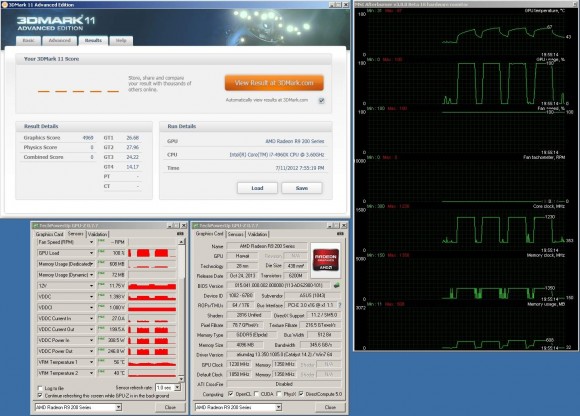 Tomb Raider: 30 min, auto rpm – 73 oC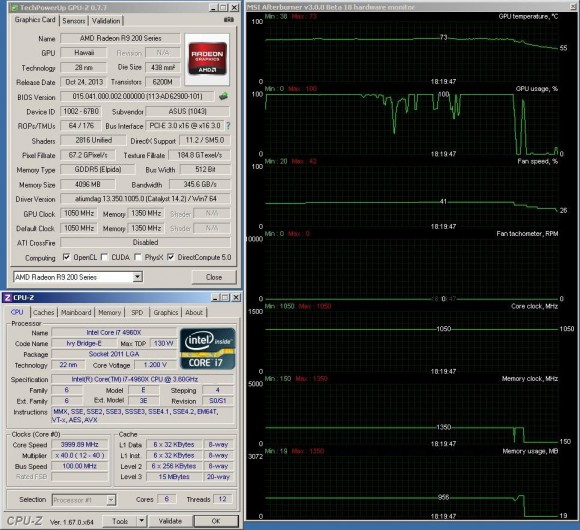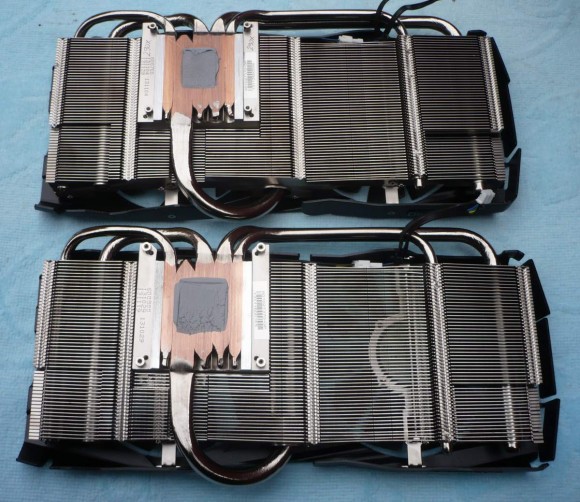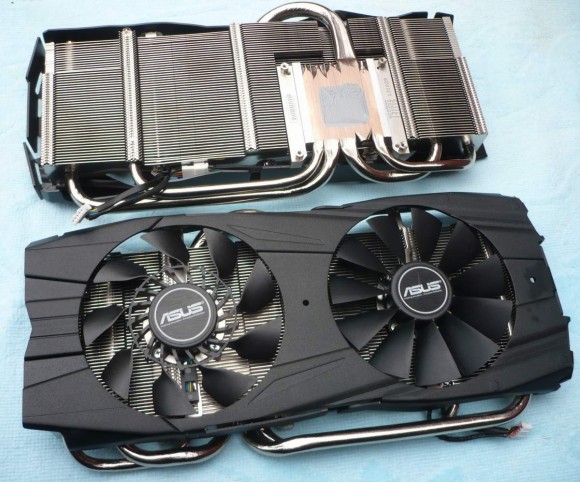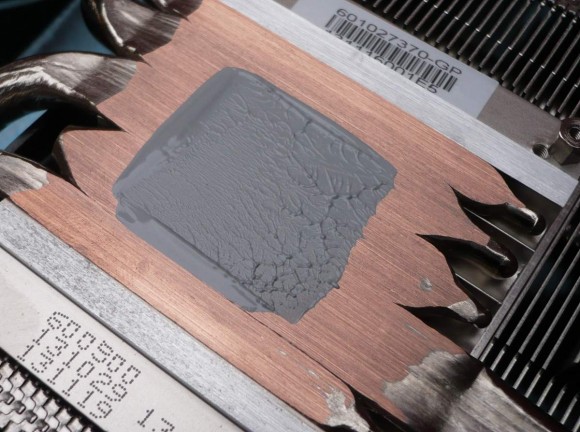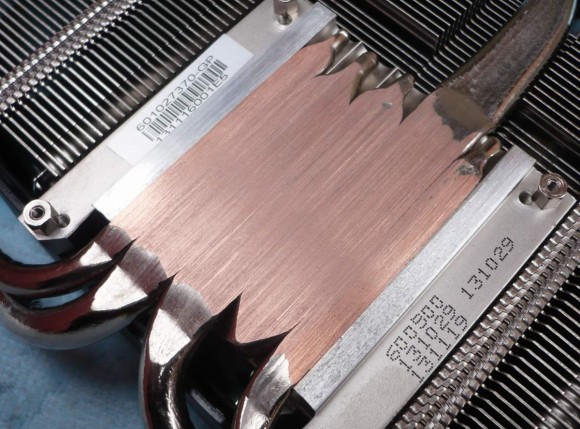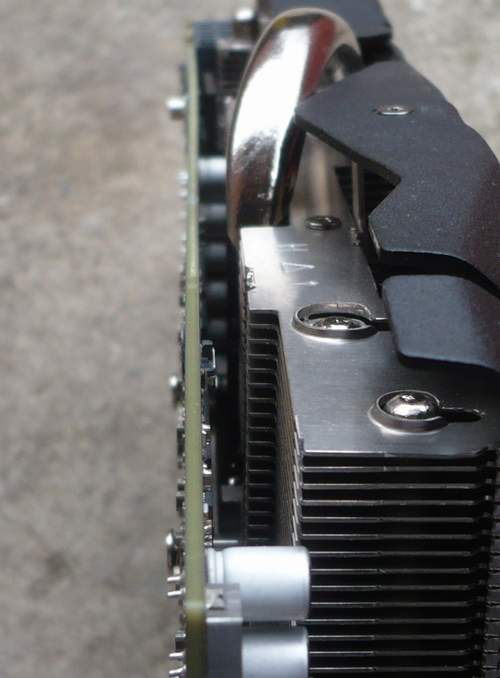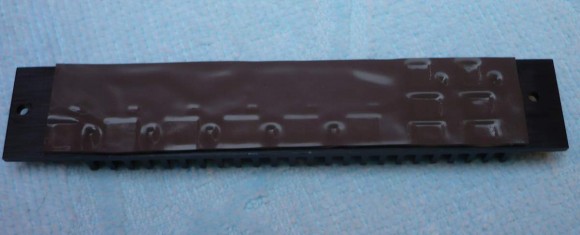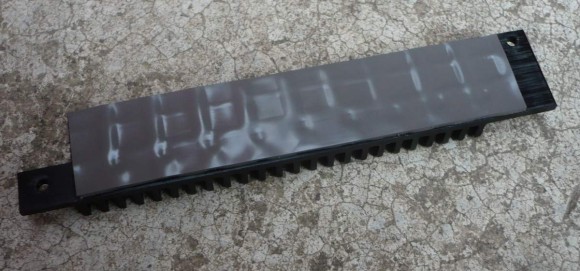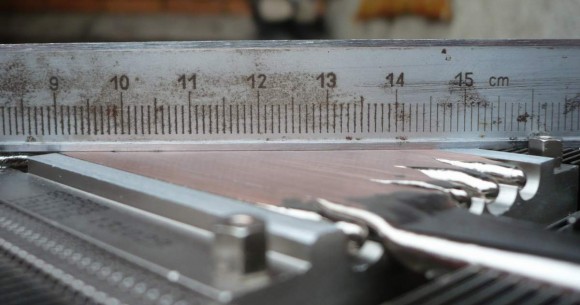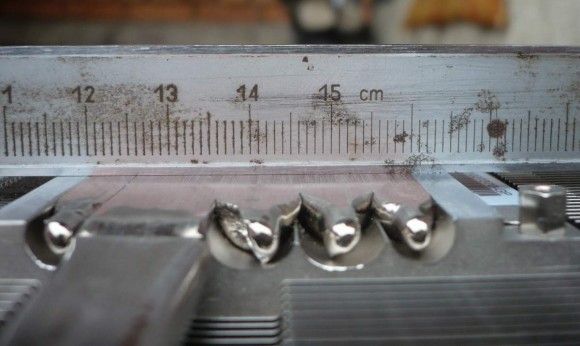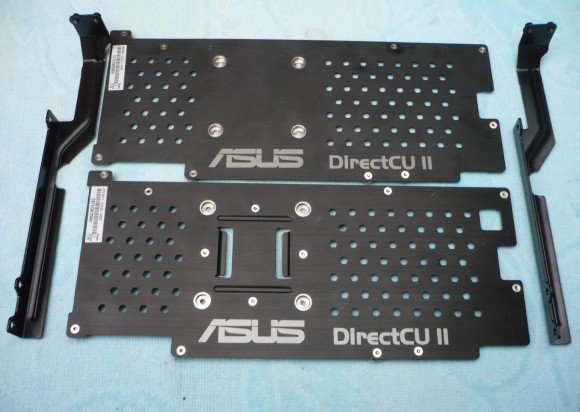 As a positive, we have the presence of backplate, useful in preventing PCB bending and protecting very fragile SMD components. Another positive aspect is the lateral reinforcement of the VGA and the design precision of the cooling system, which keeps the PCB perfectly straight.
The HDT bases are superbly flat, a fact which led to good TIM prints. I can not take off the heat sink without partially destroying the print, because the large DIE surface makes the required detaching pressure quite high, and we risk damaging the BGA balls.
VRM analysis
Asus R9 290X DC2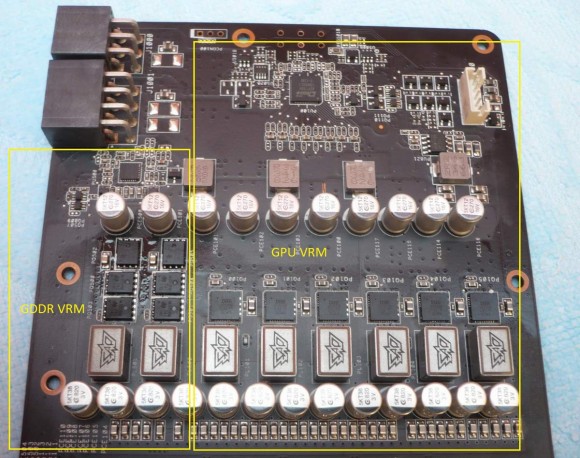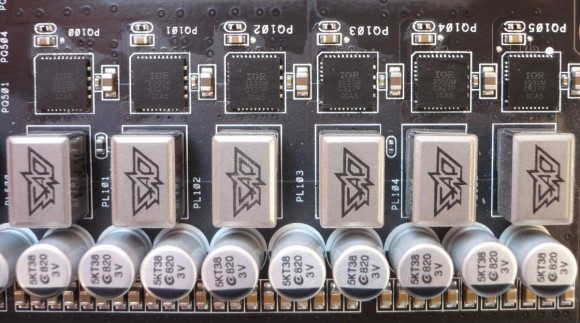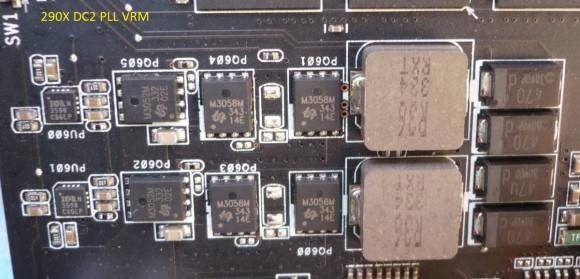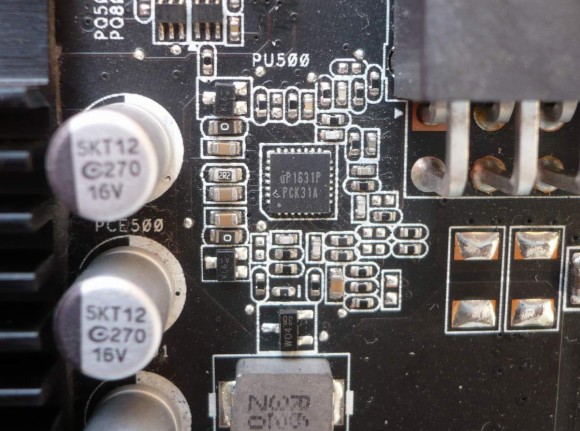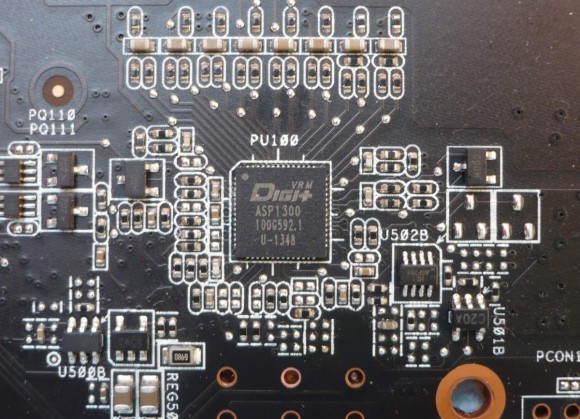 The GPU voltage regulator module is build with 6 x 60 amps phases (Dr.Mos IOR 3550M mosfets), "Super Alloy" chokes and polymeric/ceramic capacitors. The VRM is controlled by an ASP 1300 PWM. The memory VRM is very robust as well and employs two phases, each of them is composed by 3 Low RDS(on) mosftets and polymeric/ceramic capacitors.
PLL VRM is per phase identical to the memory VRM, is built with one phase and the only difference is the use of tantalum capacitors instead of the polymeric ones.
Although I would have preferred the let's call it "classic" 8 phase DC2 VRM (that has shown its strengths time and time again), this VRM is very solid as well and put up quite well with extreme testing under air and water cooling. But stability and load-line calibration attributes where not as good as with the previous DC2 VGA cards, as you can clearly see below:
VRM TEST (loadline + stability)
~20mv idle load difference and ~ 20mv load variation is far from the best I've seen.
Asus GTX 780 Ti DC2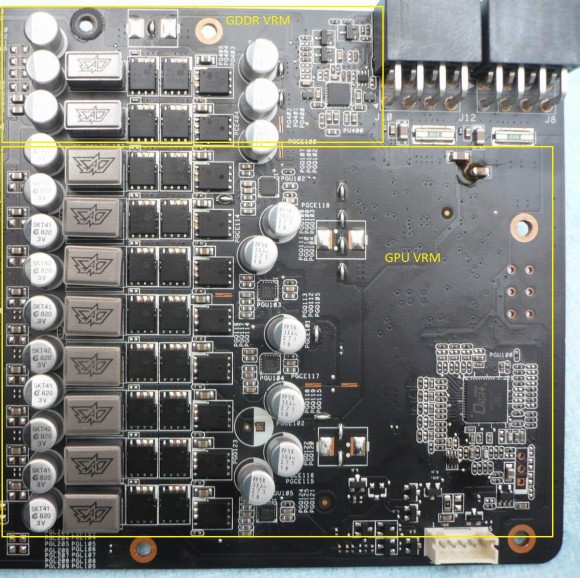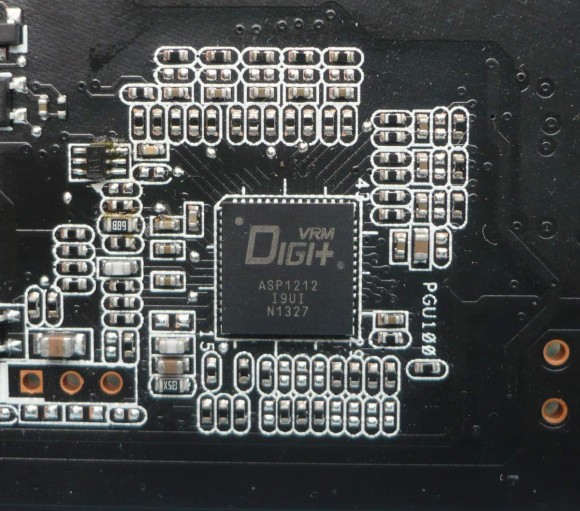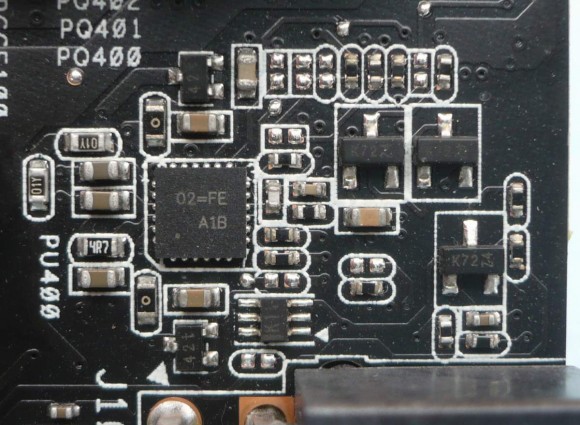 I was pleased to see the old DC2 design used on this board, especially the 8-phase GPU VRM and the 2-phase memory VRM. Each phase is built with three low impedance MOSFETs, a "Super Alloy" choke and ceramic/polymeric capacitors, and is controlled by Asus' PWM IC. The GPU also benefits from additional filtration provided by the tantalum capacitors placed on the back of the PCB.
Load-line calibration tests and stability tests reveald a situation worse than of the the 290X, more precisely a difference between idle and load of 34mv and a 21mv variation during load.
VRM TEST (load-line + stability)
This are not particularly good results, I'll let you check out the stability test we subjected the 7970 DC2 to, to see what millivolt level stability means.
HD 7970 DC2 VRM TEST
A wide voltage variation during load will definitely affect stability, so I am not happy at all with the shortcomings we see here. It is quite clear by know that this not is progress., but regression. Still, with a little interest from ASUS this problems can easily be fixed.
Voltmod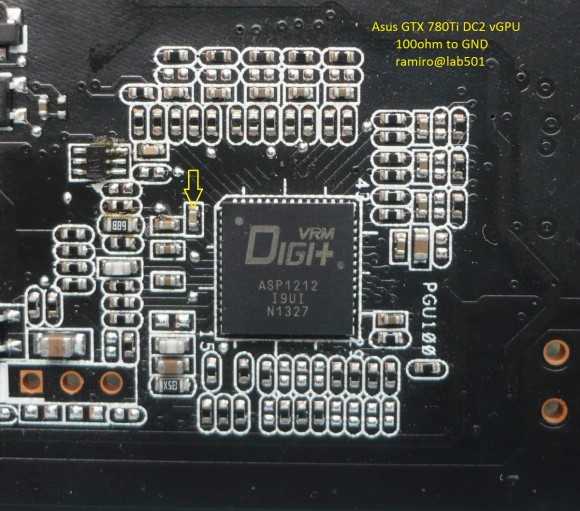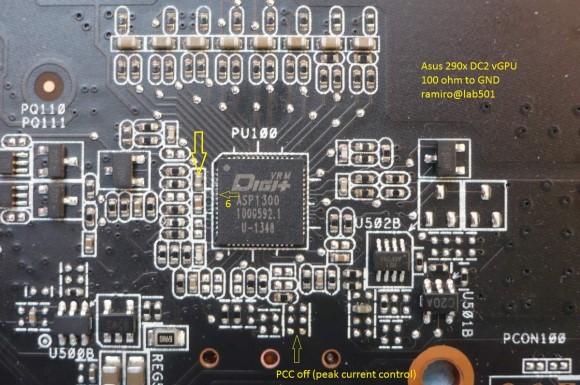 Power plane strength
The difference between the VRM's output voltage and the voltage measured at the back of the GPU gives us important clues about how solid the power plane of the PCB really is. The difference should be as small as possible, but we have to keep in mind that as the power consumption rises, the voltage drop will increase as well, therefore the comparison between two VGAs (or two GPUs) with different power requirements and power draw patterns has little relevance.
In order to draw a clear conclusion here, one must obviously test other boards equipped with the same GPU, under the same conditions of load and voltage.
I did the test using 3DMark 2011 GT1, which pushes the power consumption of the GPU to very high levels.
Asus Radeon R9 290X DC2 power plane strength – 54mv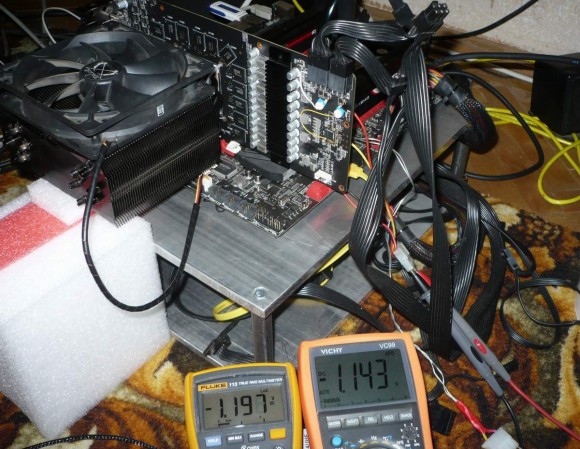 Asus Geforce GTX 780 Ti DC2 power plane strength – 96mv
Aircooling bench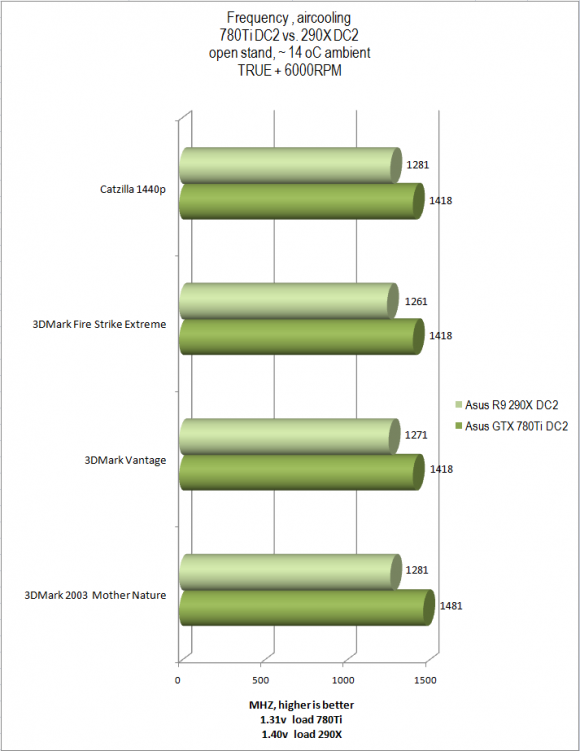 Although surface dissipation is very high on the GK110 GPU's, while using the best air cooling system the temperature couldn't be kept within acceptable limits for bench, and thus the results are limited. In the cooling chapter I showed what are the highest frequencies achievable using the stock cooler, for the purpose of evaluating scaling.
Temperature and voltage scaling are very good in both cards tested.
GTX 780 Ti DC2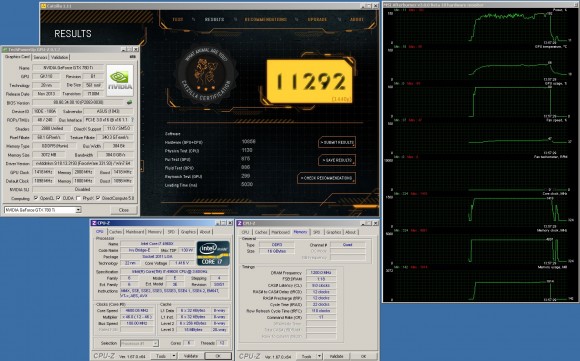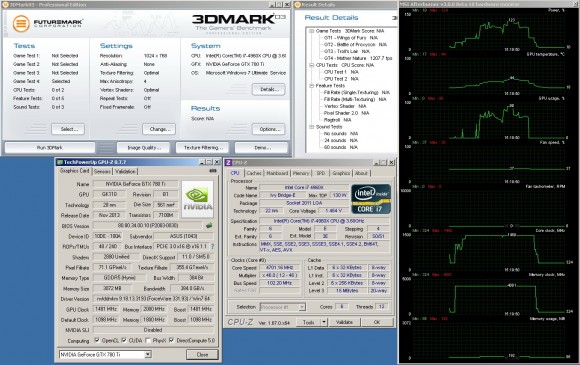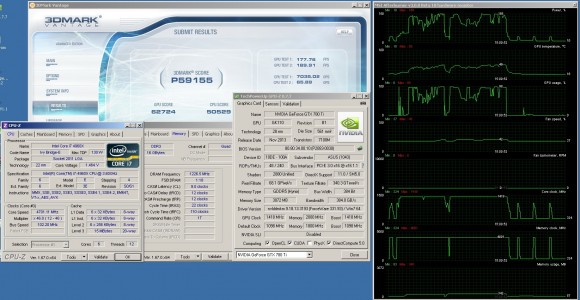 R9 290X DC2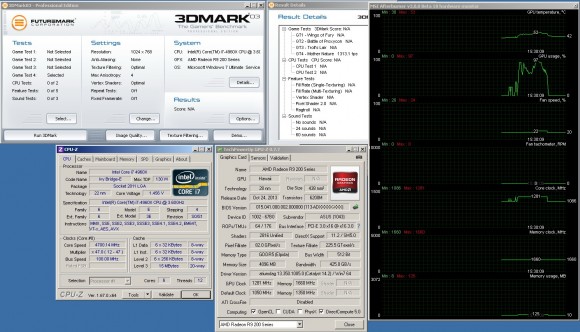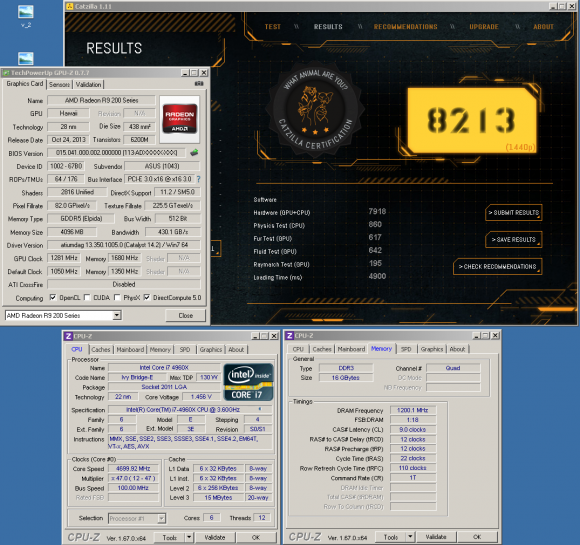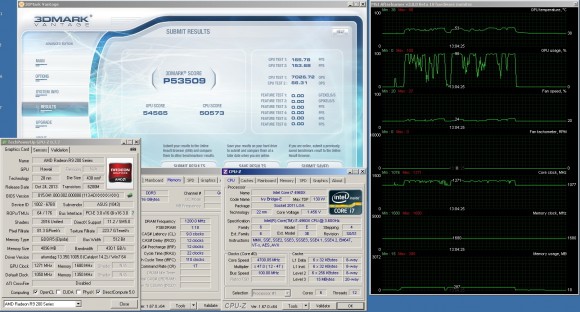 Watercooling bench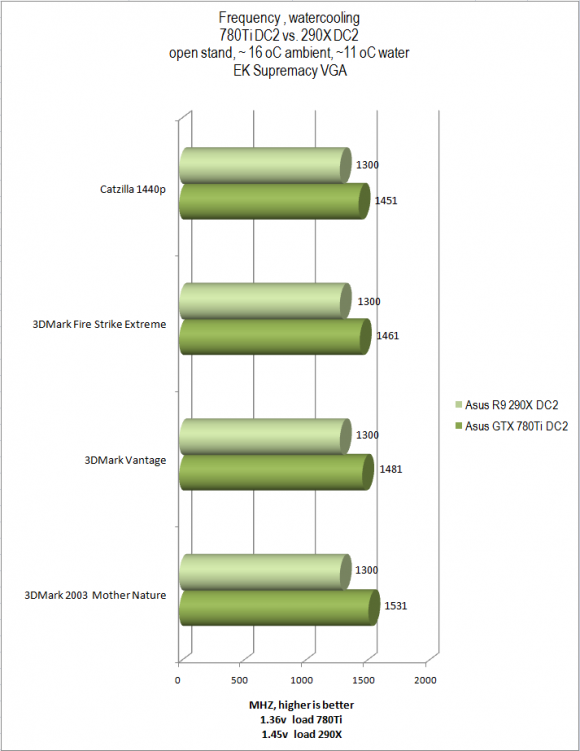 Switching to water cooling allowed us to increase the voltage yet again (and again, both GPUs have scaled well with voltage), but due to the high temperature of the water, I couldn't get very good load temperatures, therefore I could not get good scaling with temperature.
Water cooling can land excellent results if we use water at low temperature, otherwise the differences in the case of GPUs with a huge dissipation surface are not that important when compared to excellent air cooling solutions. We obtained a maximum of 1530MHz for the GTX 780 Ti DC2, a result that pleased me and showcased the very good overclocking potential of this very large GPU.
Hawaii has some problems, it doesn't offer a nice bench experience, and the measly 1300MHz (taking into account its significantly smaller size in relation to the GK110 GPU, both in terms of surface area and transistor count) points towards possible problems with the architecture, either manufacturing process problems or silicon quality issues. AMD's next single GPU will probably shed some light on this dilemma and clarify these presuppositions.
GTX 780 Ti DC2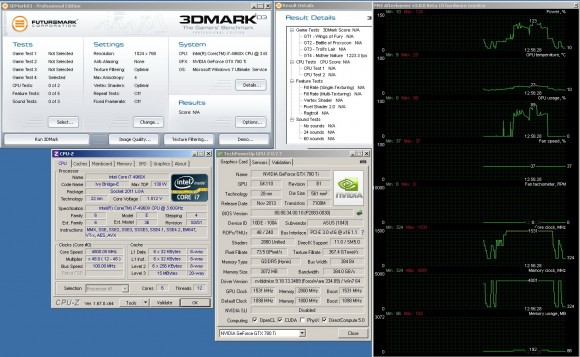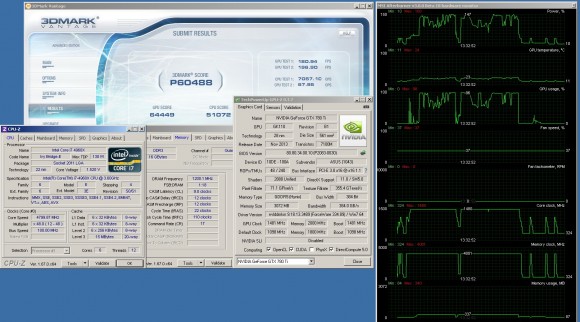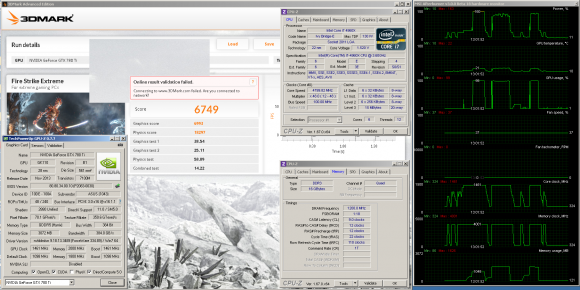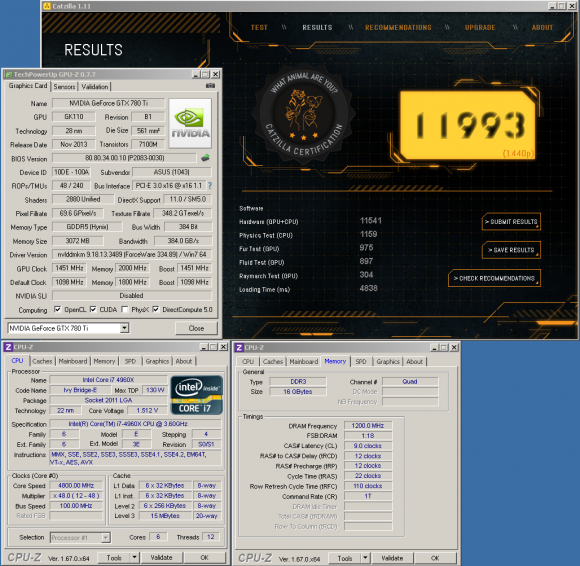 R9 290X DC2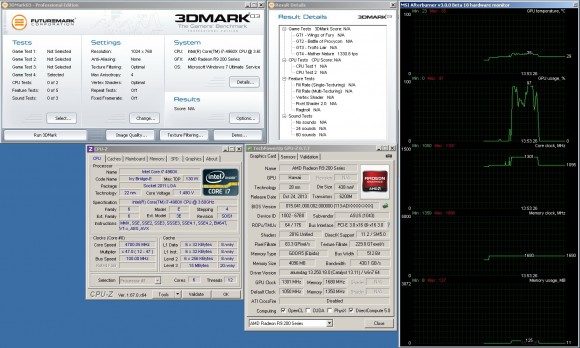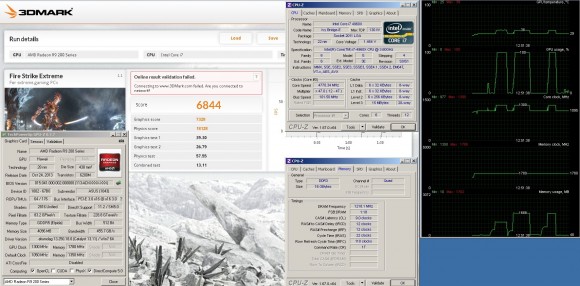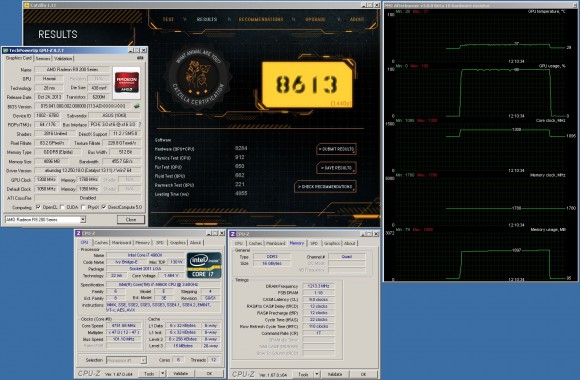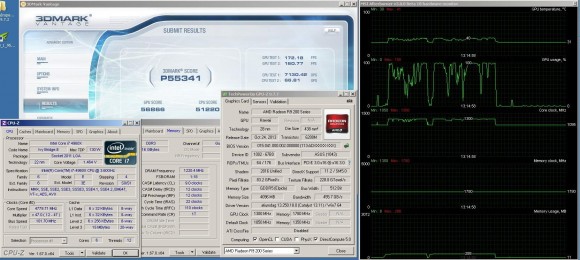 The memory worked really well, the maximum clocks achieved being 2100MHz for 780Ti and 1790MHz for 290X. As stated previously, I was disappointed to see the 290X employ Elpida Memory, but in the end, contrary to expectations, we saw good voltage scaling. However, a DC2 series board should be equipped with the best memory available, as it has been the case in the past, leaving the "second tier components" for the reference cards.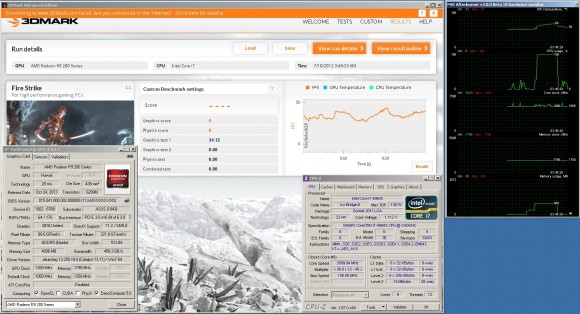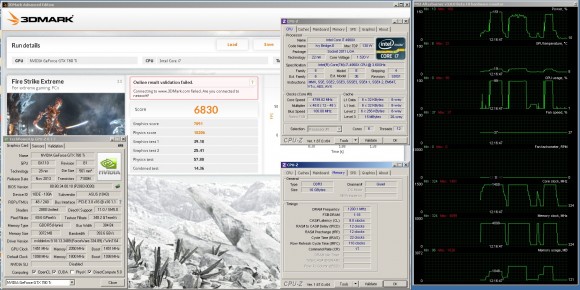 Final thoughts
Both GPUs are very powerful and need aggressively clocked top tier CPUs to not be bottlenecked, especially when overclocked. The cards sport solid, quality builds, that stood for days under brutal testing conditions, this being the underlying purpose of this article, to showcase their robustness and reliability.
The DC2 Series cards from ASUS remain top choices for bench, but unfortunately good results are not guaranteed, luck playing an important role here because of the differences between GPU samples. In terms of cooling one can say that things had gotten better (except for the HDT base), there is clear progress here and we can only hope to see additional improvements in the future.
The VRM is very solid, stable and efficient on both cards ("mission accomplished" one could say). Compared to the HD 7970 DC2 however, to give just one example, this generation of DC2 top tier cards regressed somewhat, but that could be solved with a BIOS update, or dedicated software, or even a public hardware mod that can be implemented by enthusiasts.
I worked very hard to bring you this article and as I end this writeup I can honestly say that I am pleased with both cards, each of them is great for benching if you apply their particular strengths. The R9 290X is the absolute leader in 3DMark 2003 and in Unigine it has a huge advantage over the GTX 780 Ti, because of the function to deactivate tessellation.
Instead, the GTX 780 Ti is the uncontested leader when it comes to raw power, and it doesn't come as a surprise considering the absolutely monstrous specifications it boasts. Even so, with the frequency advantage it has and and an additional "pound" of transistors over the R9 280X, we still don't have an absolute leader in all applications (as in the past), a situation that could be easily amended by NVIDIA if they showed a little bit more interest in the overclocking community.