Clash of the Titans VGA 2014 – ASUS Geforce GTX 780 Ti DirectCU II vs ASUS Radeon R9 290X DirectCU II
Power plane strength
The difference between the VRM's output voltage and the voltage measured at the back of the GPU gives us important clues about how solid the power plane of the PCB really is. The difference should be as small as possible, but we have to keep in mind that as the power consumption rises, the voltage drop will increase as well, therefore the comparison between two VGAs (or two GPUs) with different power requirements and power draw patterns has little relevance.
In order to draw a clear conclusion here, one must obviously test other boards equipped with the same GPU, under the same conditions of load and voltage.
I did the test using 3DMark 2011 GT1, which pushes the power consumption of the GPU to very high levels.
Asus Radeon R9 290X DC2 power plane strength – 54mv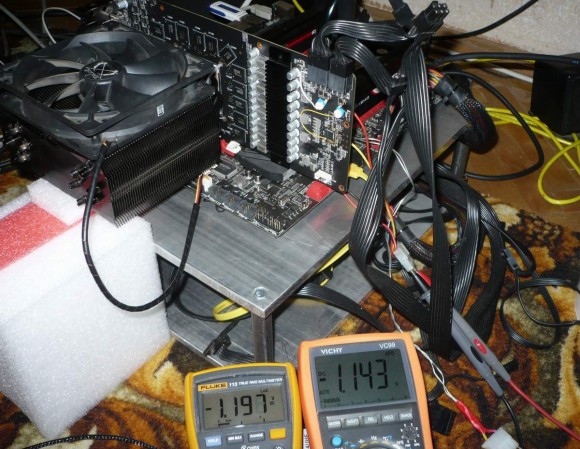 Asus Geforce GTX 780 Ti DC2 power plane strength – 96mv