Clash of the Titans VGA 2014 – ASUS Geforce GTX 780 Ti DirectCU II vs ASUS Radeon R9 290X DirectCU II
Test platform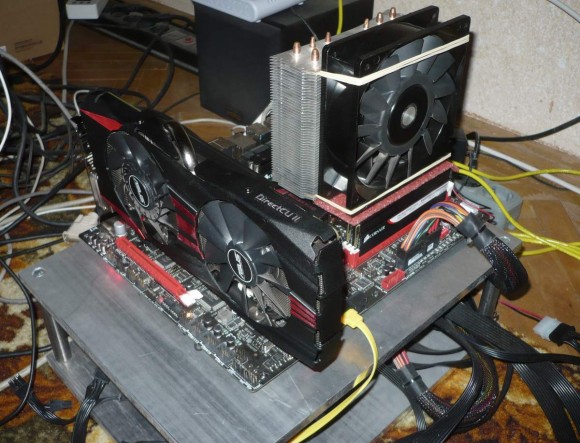 CPU – Intel Core i7 4960X
MB – Asus Rampage 4 Formula
VGA – Asus Radeon R9 290X DC2, Asus Geforce GTX 780 Ti DC2
RAM – 4x4GB Corsair DDR3 2133 CL11
SSD – Kingston HyperX SH100S3/120G
PSU – Cooler Master SPH1300
Cooling – EK Supremacy VGA, True Spirit 140, Eheim 1262 pump
TIM – Arctic Cooling MX-4
Fans used:
Scythe Slip Stream SM1425SL12H (1700RPM)
San Ace 9SG1212P1G03 (6000RPM)
Delta 1424UHE (5500RPM)
Methodology
The purpose of this article is to evaluate the robustness of the cards, especially the reliability and stability of the VRM at very high loads, overclocking capabilities and – of course – identifying any weak points.
Overclocking potential will be measured in three stages, we'll begin with the stock cooling followed by a far superior air cooling solution for the second stage, and from there we will move to a high end water cooling setup for the third and final stage.
Games are fairly useless for the purpose of this article, if benchmark tools were available for some of the games with impressive and demanding graphics (Crysis 3, Battlefield 4, Far Cry 3, etc) the situation might have been different, but it isn't..